Just Off Coast Guard Island, A Wave of "Piracy" Grows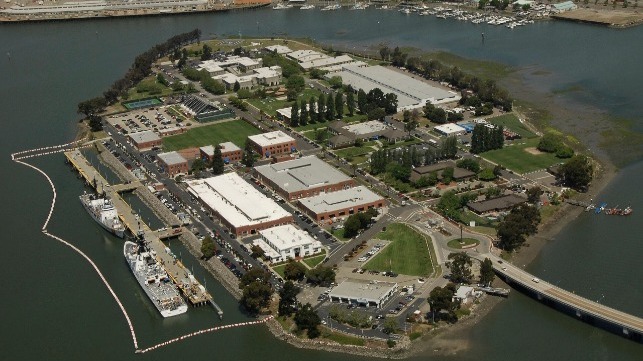 Coast Guard Island ranks among the largest force concentrations for maritime law enforcement anywhere. The 67-acre outpost between Oakland and Alameda is the home port for four National Security Cutters, the service's largest and most capable high seas patrol vessels. Its 1,200 personnel run the command centers for Coast Guard operations across the Pacific, from deployments in the South China Sea to counter-narcotics interdiction off Central America. These are critical overseas missions - but there is also an unaddressed "piracy" problem in the base's own backyard, according to local residents.
Local boatowners and liveaboard residents report that boat theft and vandalism have reached unmanageable levels in the waters around Coast Guard Island. With crime on the rise in the city of Oakland, the local police department's response to petty crime on the water is limited or nonexistant, residents and businessowners have told local media. They say that a small number of irregular encampments and anchored-out boat communities are responsible for the crime - and some boat owners have begun taking matters into their own hands.
"Over the last couple of months it's become extremely severe, boats are being stolen almost on a nightly basis," former Oakland Marina harbormaster Brock DeLappe told NBC. "Residents in marinas are scared, they're talking about forming groups, they're arming themselves."
Marine businesses are feeling the impact as well. "I've tried going to the police to retrieve [stolen items] but haven't had a lot of success. We've been kind of going over there ourselves and kind of stealing our stuff back from [the thieves]," said Craig Jacobsen, president of Outboard Motor Shop, speaking to local TV outlet KRON 4.
Jacobsen's shop - located about four cable lengths southeast of the Coast Guard base - had two yacht break-ins within the span of a week, he said. When he reached out to the Oakland Police Department, he was told that officers were only available to respond to incidents of violent crime.
The department does have its hands full: the crime wave is even worse on shore. In Oakland, robberies have risen nearly 30 percent year-on-year, and carjackings have risen by 20 percent. The city has the highest rate of violent crime in California.
While local law enforcement may have few resources to spare for boat thefts and break-ins, the local boating community does have support from the Coast Guard. The command at Coast Guard Island has small patrol boats, and it is putting them to good use. "Our plan is to increase the level of Coast Guard law enforcement presence in the estuary at random times throughout the day," Sector San Francisco commander Capt. Taylor Lam told local ABC 7.