Jump in Cargo Handling at India's Major Ports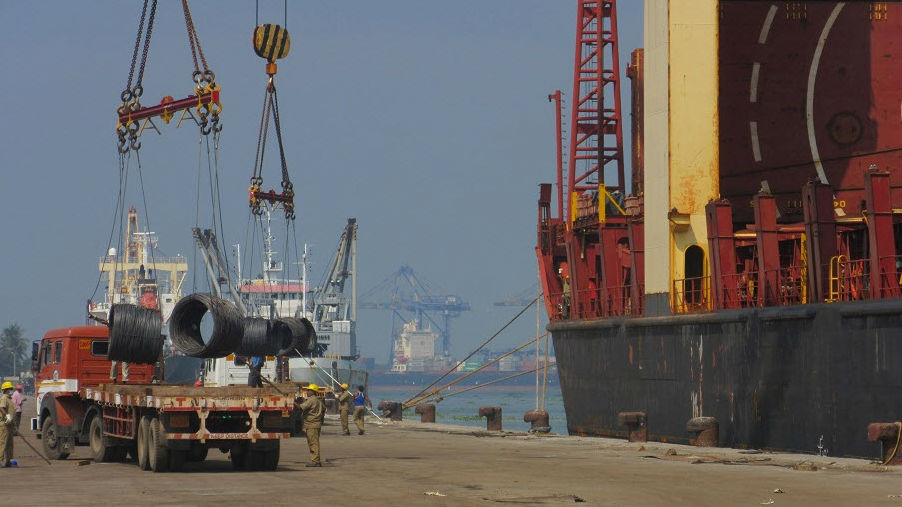 India's major ports handled 439.66 million tons of cargo from April to November, 2017. This was a 3.46 percent increase on the 424.96 million tons handled during the corresponding period in 2016.
Nine ports (Kolkata (including Haldia), Paradip, Visakhapatnam, Chennai, Cochin, New Mangalore, Mumbai, JNPT and Kandla) registered positive growth in traffic. The highest growth was registered by Cochin Port (17.93 percent), followed by Paradip (13.13 percent), Kolkata (12.64 percent), New Mangalore (7.07 percent) and JNPT (5.69 percent).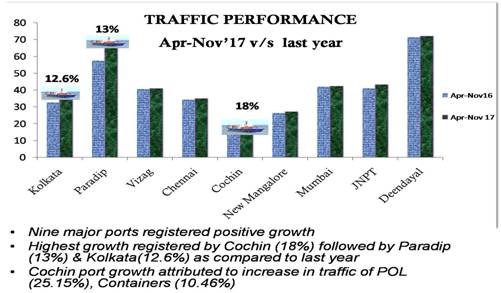 India's Ministry of Shipping has taken significant steps over the last three years to provide a robust legislative framework, create capacity and boost training.
India has a coastline of 7,500 kilometers (4,660 miles) , 20,000 kilometers (12,400 miles) of inland waterways and over 200 major and minor ports.
In its recent election to the IMO Council, India secured the second highest number of votes and was re- elected in Category B, which includes States with the largest interest in international seaborne trade.
The Minister for Shipping, Shri Nitin Gadkari, spoke after the re-election, saying: "With the Indian economy poised to grow faster, our Government is alive to the possibility of a quantum jump in maritime activities on the Indian coasts. We are upgrading our infrastructure and reforming the regulatory framework for ease of doing business. SAGARMALA, our flagship program launched in 2015 for port led development, has four limbs, namely, port modernization and new port development; port connectivity; port led industrialization; and port community development.
"Under this program, six new major ports, 150 projects to modernize existing ports including construction of new berths and 130 projects in rail and road sectors for last mile connectivity have been identified requiring investment of $100 billion by 2025, of which, about $40 billion already stands spent.
"111 inland waterways fit for river navigation have been identified, of which 32 will be developed in the first phase at an estimated investment of $800 million. These projects provide major investment opportunities for the international community."