Italian Police Bust Libyan Fuel-Smuggling Ring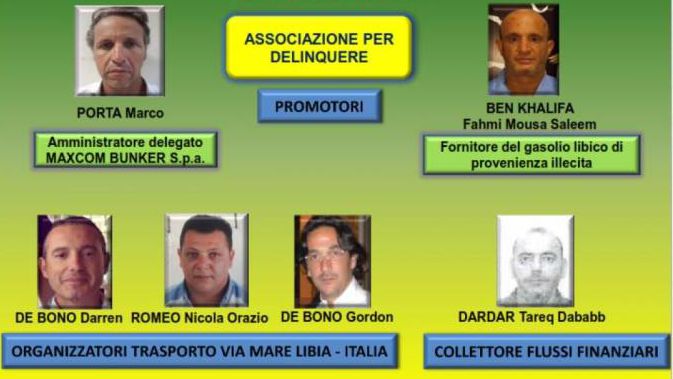 Italy's Guardia di Financia (financial police) announced Wednesday that they have cracked a black market fuel smuggling ring that allegedly trafficked at least $35 million worth of Libyan petroleum products over the course of 30 voyages. Prosecutors in the port of Catania have issued arrest warrants for nine individuals, including Nicola Orazio Romeo, a suspected associate of the Santapaola mafia; Fahmi bin Khalifa, Libya's alleged "king of smuggling"; Libyan national Tareq Dardar; Marco Porta and Rosanna La Duca, associates of oil trader Maxcom Bunker; and a former soccer player, Maltese national Darren De Bono. De Bono and Romeo stand accused of arranging the seaborne transportation for the fuel.
Fahmi bin Khalifa has already been arrested by a Libyan militia group on related charges. A United Nations investigation connected him with the operations of two suspected smuggling vessels, the Basbosa Star and Sea Master X (ex name Amazigh F). These vessels would allegedly load fuel belonging to Libya's National Oil Company by lightering from the refinery at Zawyia, then disable their AIS systems for a voyage to a position outside Malta's territorial seas. The UN report alleged that the Maltese vessel Solia was observed alongside the Star and Sea Master on seven occasions in 2015 at this offshore rendezvous point.
Prosecutors contend that fuel trader Maxcom Bunker purchased the illegally imported fuel at less than half the market price, then distributed it in Italy, Spain and France at normal retail rates. The petroleum product was a lower-quality diesel intended for marine use, and was sold to consumers for use in over-the-road vehicles.
Prosecutor Carmelo Zuccaro said that while the investigators could not definitively prove that the smuggling activity benefited Islamist militant groups in Libya – like Islamic State – they could not rule out the possibility.