Irish Ferries Orders World's Largest Cruise Ferry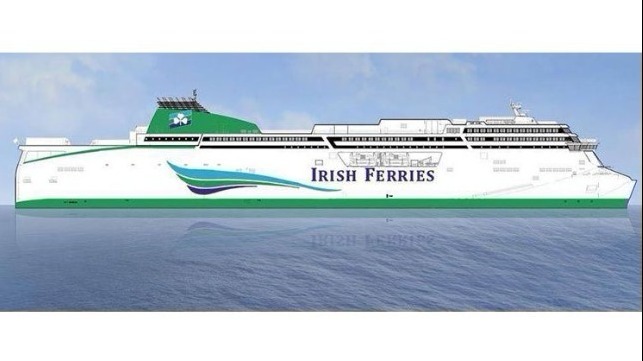 On Tuesday, Irish Continental Group announced that it has ordered the world's largest cruise ferry by vehicle capacity. The $200 million ship will be able to carry up to 330 trucks on Irish Ferries' Dublin-to-Holyhead service, about 50 percent more than the current vessel operating the route. It is also being built to ice class specifications, which will allow it to be deployed to points further north if required.
Freight capacity will be provided on five decks. In an unusual arrangement, the vessel has been designed for three-tier freight bow loading to allow for quick turnaround times. Passenger facilities will accommodate up 1,800 individuals, and will include cinemas, state-of-the-art entertainment options, retail outlets, bars and restaurants, in addition to facilities for the needs of truck drivers.
Exclusive areas have been set aside for premium "Club Class" passengers, with a dedicated lounge and private access direct from the vehicle decks - features reminiscent of recent developments in the cruise industry, where tiered accommodation areas are regaining traction.
IGC says that the new ferry will use scrubbers. The as-yet-unnamed vessel will be built by Flensburger Schiffbau-Gesselschaft, and delivery is expected in the first half of 2020.
"This infrastructural investment enhances 'the bridge' to the UK & Continental Europe that is a vital part of the continued success of Ireland's open economy," said Eamonn Rothwell, IGC's CEO.