Iran to Order 600,000 TEU of Container Newbuilds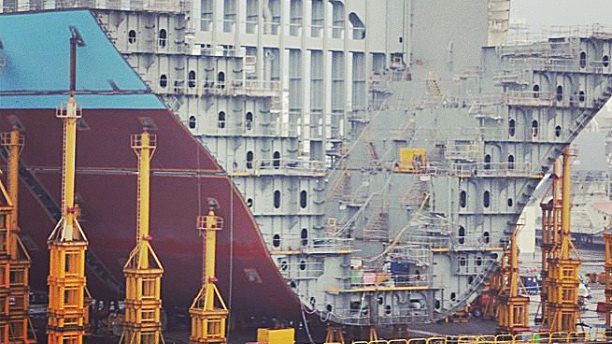 Iran's Islamic Republic of Iran Shipping Lines (IRISL) has announced plans to order new 18,000 TEU (Triple-E type) container vessels from Chinese yards, according to Iran's Press TV.
The orders could total to 600,000 TEU in all, plus new general cargo ships and bulkers. At present, IRISL has a fleet of 160 vessels.
The news gives more detail to reports earlier in the year that IRISL would look to modernize its fleet.
"We are facing a new situation with the West. There are lots of opportunities, especially for IRISL," recently appointed chairman Mohammed Saeidi told media. "We have to develop and increase our facilities and ships."
Current sanctions ban Iranian vessels from American and EU ports, but the lifting of the restrictions is expected early next year as Iran shows compliance with its recently negotiated nuclear accord.
IRISL is said to be in talks with Chinese banks for loan assistance, conditional on the construction of the new vessels in China's beleaguered shipyard sector. China's "white list" approved shipyards receive government preference and assistance, including tax rebates and access to capital.
Shipping analysts suggest that container vessels operating on the major Asia-U.S. and Asia-Europe routes are operating below cost, and that consolidation and capacity reduction will be essential to bring shipping supply in line with demand.
Tom Leander, a commentator with Lloyd's List, suggested on Thursday that the construction of such large vessels has been partly responsible for the recent rate collapse. "If one alliance has ultra large ships, the competitors must have them, too. Collectively, this is insanity — ending up with more large ships than anyone wants or needs," he said.
IRISL has also announced its intention to renew a preexisting joint venture with Shipping Corporation of India and to enter into partnership with Italian firm Fratelli Cosulich for the marketing of IRISL's services in the Mediterranean.
In addition to IRISL's announcement of expansion plans, Iranian shipbuilder ISOICO has also announced a joint venture with Hyundai Heavy Industries of Korea, and national tanker company NITC has announced that it will order multiple VLNGs from Chinese and Korean yards.
U.S. authorities have previously connected IRISL to covert attempts to transport banned cargo for Iran's military programs, and to reregister its vessels with front companies to avoid sanctions.