Inland Vessel's Design Adapts to Rhine's Low Water Conditions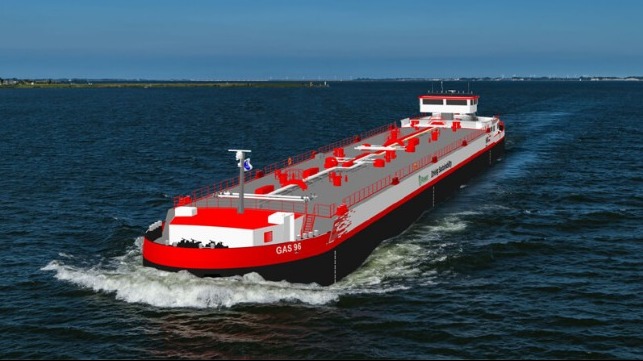 Low water levels of many of Europe's rivers. and especially the Rhine and its tributaries as well as the associated canal system, has threatened the operations of inland vessels in the past several summer seasons. German shipping company HGK Shipping reports it has come up with a unique design to address the challenges of river water levels and maximize its operations.
The company bills itself as Europe's leading inland waterway shipping company, with a fleet of more than 350 company and chartered vessels. Annually, they transport approximately 43 million tonnes of freight every year.
HGK reports it is working on several designs to address the challenges facing the shipping industry. the company is working on concepts for alternative drive systems. They include diesel-electric hybrid drive systems for new ships already on order as well as design studies for purely electric or hydrogen-powered inland waterway vessels. The company is also conducting trials for partially autonomous navigation operations for an inland waterway vessel centered on using sensor technology installed around the ship,
The Gas 94 according to the company is a milestone in optimizing ship design and the drive concept. The gas tanker combines an innovative diesel-electric drive system with a ship's design optimized for extremely shallow waters so that it can guarantee basic supplies for the goods' recipient, even when the water level in the river Rhine has been regarded as critical so far. The vessel went into service in the third quarter of 2021.
The company placed its order for the next innovative ship on September 15 from the Dutch shipyard, De Gerlien van Tiem Scheepsreparatie – Nieuwbouw. In addition to the benefits from their history of innovative ships, the Gas 96 is designed for the river's low water levels. The design has been optimized for water levels.
To maintain a high load capacity even in low water conditions, the designs for Pax 96, features an extra-wide design for the vessel as well as the company's new diesel-electric drive system. The vessel will have a capacity of 300 tons even when the draft restriction is lowered to 1.2 meters. The vessel will be 360 feet in length with a 49-foot beam giving the vessel a maximum load capacity of 2,500 tonnes.
The design is also future fuel ready and will be able to be retrofitted to incorporate alternative fuels. The loading system will also be equipped to transport ammonia.
The new gas tanker will be operational in the fourth quarter of 2025. The hull will be constructed at a shipyard in Eastern Europe, with final structural work taking place at the De Gerlien Van Tiem shipyard in the Netherlands.
Media reports indicate that the vessel will be operating under a long-term charter arrangement with two chemical companies headquartered in Denmark and Germany.