Indonesian Police Seize Bulker in Oil Spill Investigation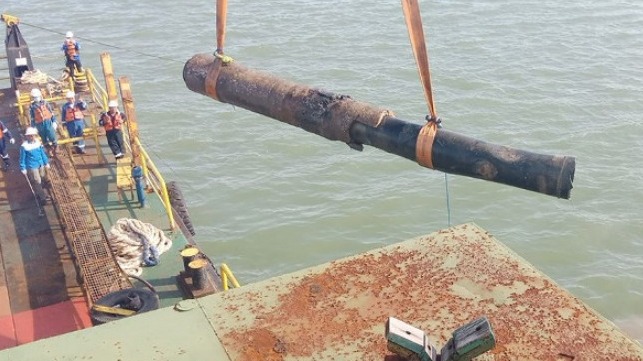 Authorities in East Kalimantan, Indonesia have seized the bulker Ever Judger as they continue an investigation into the recent oil spill and fire in Balikpapan Bay.
The Judger's bunker tanks are not believed to be the source of the spill: a forensic investigation has determined that the crude oil in the water came from a subsea pipeline operated by oil firm Pertamina. The line ruptured on March 31, spilling 40,000 barrels of oil, and a fire on the surface of the water following the release killed five fishermen. It is believed to be the worst environmental disaster in Indonesia in a decade.
The Indonesian Navy's top oceanographer and the local police suspect that the pipeline was caught and ruptured by the Ever Judger's anchor. The line was found about 300 feet from its original position, alongside a 500-yard-long furrow in the seabed, and the Judger was the only vessel in the vicinity at the time of the spill. According to the local port authority, she was outbound from Balikpapan on the evening of March 30, bearing a load of Indonesian coal.
Police investigators in Kalimantan hope to use lab tests to compare substances found on the Judger's anchor with those on the pipeline to confirm whether the vessel was involved. In addition, salvage divers have recovered three pipeline sections totaling about 150 feet in length for use as evidence.
While the investigation continues, police have seized the Ever Judger at the pier and have asked immigration authorities to prevent her crew - all Chinese nationals - from leaving the country.