Indonesian Car Ferry Catches Fire Off East Java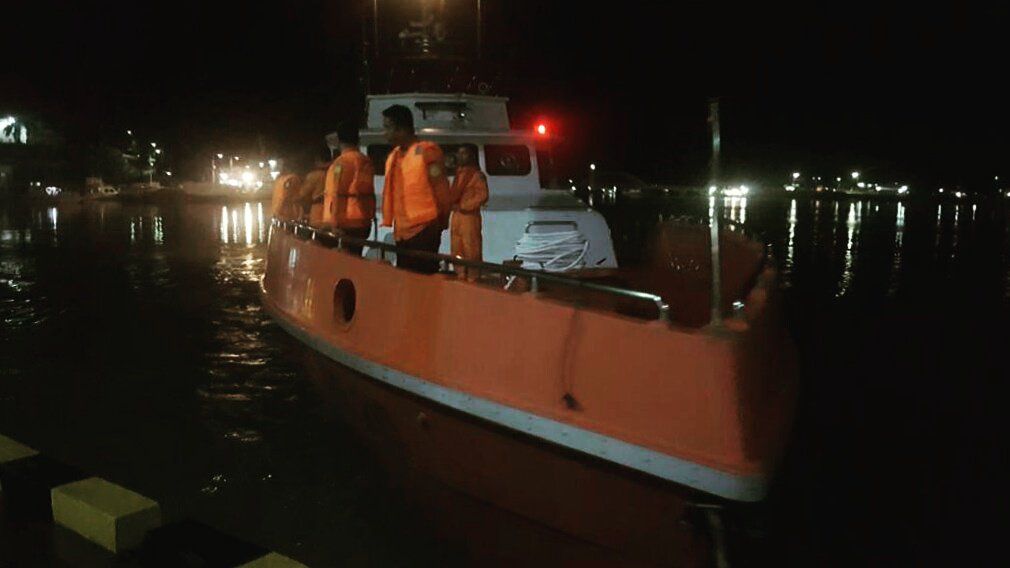 The ro/pax ferry Mutiara Sentosa 1 suffered a serious fire on Friday evening during a transit of the waters of the Masalembo, the Southeast Asian equivalent of the Bermuda Triangle. Indonesian SAR agency Basarnas reported that out of 178 people on board, 91 have been rescued and three are confirmed dead. Search efforts continue and the full extent of the damage to life and property is not yet known.
The Mutiara was under way from Java to Balikpapan, Borneo when a fire broke out on her car deck. The crew made an attempt to put it out with the vessel's sprinkler system but it could not be extinguished. The master ultimately ordered the passengers and crew to abandon ship into the vessel's lifeboats.
The Mutiara's position (DigitalGlobe)
The container feeder Meratus Makassar diverted to the scene, and Basarnas' Surabaya station dispatched the response tug SAR 225 to provide further assistance. In an update late Friday, Basarnas said that it had dispatched vessels from three additional SAR stations.
The 1988-built Mutiara Sentosa I (exname Venilia) is an unusual ro/pax design with a loading ramp on her starboard side, forward of the parallel mid-body. She is one of three vessels bearing the same name, and is owned and flagged in Indonesia. Before entering service on her current run, she served on the Silver Ferry route between the ports of Hachinohe and Tomakomai, Japan.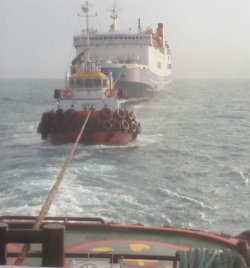 The Mutiara suffered another, simpler casualty in March: she ran out of fuel in the waters around Madura Island, near Surabaya. A bunkering tanker was sent to resupply her with 40 tons of fuel, but was unsuccessful in making a transfer due to foul weather. The tugs TB Kresna 315 and TB Restu took her in tow and returned her to Tanjung Perak Port (left, courtesy Basarnas). Indonesian Director General of Sea Transportation Tonny Budiono told media that the incident was a disappointment. "This will greatly jeopardize the safety of passengers and will certainly hurt our efforts to enforce the safety of shipping. Once again I affirm that the safety of shipping is a joint responsibility, not just one party," he said.