Indian Navy Divers Assist in Coal Mine Rescue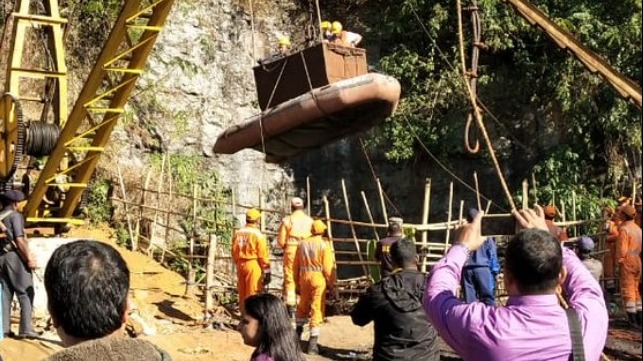 Indian Navy divers are exploring the bottom of a flooded coal mine in Meghalaya, near the Bangladeshi border, in search of 15 missing miners who were trapped by rising water.
After days of preparation, six divers from the Indian Navy and the National Disaster Response Force entered the mineshaft and used an ROV to explore the mine's depths. They gauged the water's depth to plan for further operations but did not find the missing men.
Work is now under way to prepare for a dive team to descend into the mine. Local fire and rescue units are pumping out the mineshaft and three other mines nearby in order to reduce the risk of reflooding and decompression sickness for rescue divers.
Sunday marked the 19th day since the mine flooded, and some family members have given up hope on the prospect of finding survivors, given the length of time since the flooding began. Sahib Ali, a worker who was near the mine's entrance at the time of the incident, said that water filled the shaft rapidly and that he barely escaped. "How long can a person hold his breath underwater?" he said, speaking to the Times of India.
Rescue operations at the mine have been slowed by external developments. On December 16, flash flooding from a nearby river forced responders to temporarily suspend their work. The procurement and operation of adequate dewatering pump capacity has also proven difficult: The local government allegedly waited about one week after the disaster before asking for large pumps, and these were not delivered until December 29.
The flooded mine is an illegal "rat-hole" operation, an informal method of mining that involves digging a hole vertically down into the side of a hill and then tunneling horizontally in search of coal seams. Mining has been banned altogether in Meghalaya since 2014 due to environmental concerns, but it continues illegally, and there are roughly 5,000 unregulated rat-hole mines in the province.