Indian Coast Guard Rescues Scientists When Research Ship Breaks Down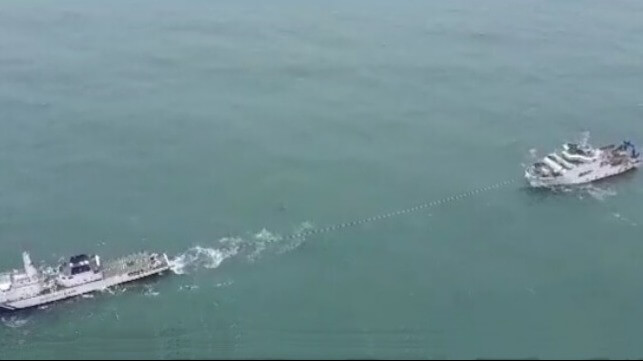 The Indian Coast Guard ports it rescued the country's only ocean-going research vessel after the vessel broke down on July 27 while sailing in the Arabian Sea near the state of Goa on the West Coast of India.
The RV Sindhu Sadhna (4,154 gross tons) is operated by the Council of Scientific and Industrial Research of the National Institute of Oceanography (CSIR-NIO). It was placed in service a decade ago and used for scientific exploration and oceanographic research activities primarily in the Arabian Sea, Bay of Bengal, and the Indian Ocean.
The research vessel is 262 feet long and designed to remain at sea for up to 45 days. It has a normal speed of 13.4 knots. It is outfitted with a broad array of sensors and equipment for oceanographic research. Among the research it is capable of conducting is deep water and sea bed sediment samplings that help deep-water explorations to locate new minerals, hydrocarbon resources, flora and fauna.
@IndiaCoastGuard Ship Sujeet successfully attended to a distress situation & averted the potential threat of grounding, when rescued a research ship of #NIO that suffered engine failure & was drifting close to #Karwar, with 08 esteemed scientists & total crew of 36 onboard. pic.twitter.com/TBeZoTEGdy

— Indian Coast Guard (@IndiaCoastGuard) July 27, 2023
The vessel's AIS signal appears to show the vessel went to sea on July 24 from its base in the Indian city of Mormugao in Goa. The Coast Guard reports it received a call for assistance on July 27 while the vessel was approximately 20 nautical miles offshore. According to the report, the was adrift moving at speeds of up to 3 knots raising the danger of it grounding near the ecologically sensitive Karwar coastline. Eight scientists and a total crew of 36 were aboard.
The Coast Guard sent one of its vessels to assist. Despite challenging weather conditions, they decided to tow the vessel back to Goa. They were able to safely return to port protecting the valuable vessel with its scientific equipment and research data.