Imports Continue Slow Climb Despite Cuts in 2023 Forecast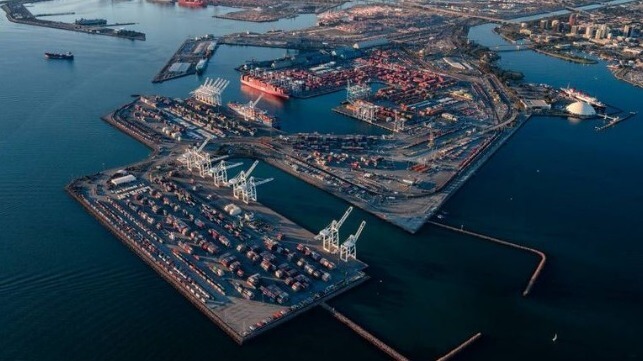 Retail import levels are continuing a slow but steady rise from the three-year lows experienced at the beginning of 2023. The National Retail Federation however continues to lower its forecasts cutting its projections for the second quarter and for the first half of 2023. The retailers' trade association expects imports will remain below peak 2022 levels at least into the third quarter of this year.
The latest update for the monthly Global Port Tracker is now forecasting first-half 2023 import levels at 10.4 million TEU, down 22.8 percent from the first half of 2022 and down nearly 4.0 percent from the NRF's previous projections. The trade group cut for the second time its forecast for Q2 lowering it by more than 5.0 percent versus earlier reports. Volume for the second quarter is now forecast at 5.46 million TEU at the major U.S. container ports versus earlier forecasts of 5.76 and 5.79 million TEU in the second quarter.
"Consumers are still spending and retail sales are expected to increase this year, but we're not seeing the explosive demand we saw the past two years," said Jonathan Gold, Vice President for Supply Chain and Customs Policy at the NRF. "Congestion at the ports has largely gone away as import levels have fallen, but other supply chain challenges remain, ranging from trucker shortages to getting empty containers back to terminals."
Logistics company Descartes Systems Group also issued its monthly update reporting similar month-over-month increases in import volumes. They said that overall U.S. container import volumes in April 2023 increased significantly from March 2023, largely driven by a surge in imports from China. April volumes they reported also kept pace with pre-pandemic 2019 volumes. Imports from China reversed their downward trend and are up 26.7 percent over March 2023.
"Container import volumes from China, which had been in decline since August 2022, rebounded dramatically in April 2023, representing 82 percent of the increase in volume from the top 10 countries importing into the U.S.," said Chris Jones, EVP Industry Descartes. They pointed to strong month-over-month increases in April also coming from Vietnam, South Korea, Taiwan, and Hong Kong.
The Global Port Tracker has not yet forecast the full year, but the third quarter is expected to total 6 million TEU, down 7.2 percent from the same time last year. The first nine months of the year would total 16.5 million TEU, down 17.8 percent year over year. Imports for all of 2022 totaled 25.5 million TEU, down 1.2 percent from the annual record of 25.8 million TEU set in 2021.
"With economic uncertainty continuing, the impact on trade is clear," said Ben Hackett, Founder of Hackett Associates, noting continued high inflation, Federal Reserve interest rate hikes, and recent bank failures. "Year-over-year import volumes have been on the decline at most ports since late last year and declining exports out of China highlight the slowdown in demand for consumer goods. Our view is that imports will remain below recent levels until inflation rates and inventory surpluses are reduced."
On a month-to-month basis, the NRF sees imports coming up from a low of 1.55 million TEU in February. They expect that it will return to the 2 million TEU level in July and August. Monthly rates, however, are expected to be down more than 20 percent in April and May before rising slightly to a nearly 16 percent decline for June. Third quarter monthly declines however are expected to continue to reflect the slow climb back in import levels falling to an 8 percent decline in July, nearly 10 percent in August, and 3.4 percent in September marking a year since the volume declines began to accelerate across the shipping industry.
The NRF expects that import levels will remain well below last year's levels heading into the fall of 2023. Last year, they reported that retailers were advance shipments for the typically busy fall and holiday sales periods to get merchandise into warehouses before the expiration of the West Coast longshore union contracts. Traditionally, the summer and fall see import increases as retailers stock up, but this year economists have noted that inventory levels remain high.