IMO Sulfur Cap Could Hit Heavy-Oil Producers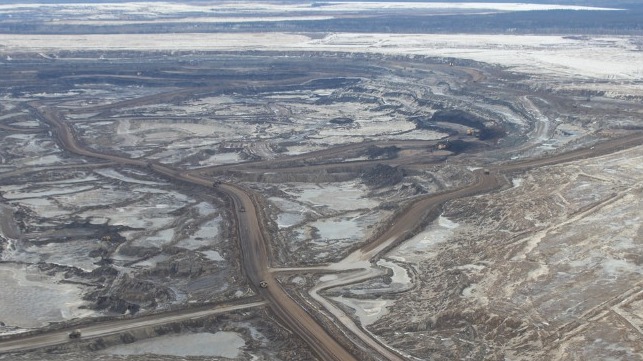 Canada's oilsands fields and other producers of extra heavy, high-sulfur crude may face headwinds after the 2020 IMO fuel sulfur cap takes effect. The residual fuel from high-sulfur grades requires more treatment to meet the impending new regulatory standard, making sour feedstocks less desirable.
According to the American Bureau of Shipping, the translation of sulfur content in crude to residual bunker fuel ranges from a factor of two to three, which means that a light sweet crude with a sulfur content of 0.4 percent would translate to a bunker fuel sulfur content of 0.8-1.3 percent. To meet the 0.5 percent mark required by the IMO, refiners will have to either treat the fuel or blend it with ultra-low sulfur fuel oil. In short, crude feedstocks with more sulfur produce fuel oil with more sulfur, which requires more costly modification in order to meet the 0.5 percent cap.
This may have a negative impact on bitumen producers, according to analysts. "[The IMO cap] is bad news for any producers of heavy, sour crude oil," said Martin Tallett of market research firm EnSys Energy, speaking to CBC. "The shock is going to go through the system and affect all products, all regions."
Canadian heavy oil producers may be particularly affected. Alberta's bitumen grades have a very high sulfur content, ranging from 4.7 percent at Athabasca to 7.0 percent at Peace River, according to the University of Alberta. The sulfur content of most crude oil ranges from 0.1 percent (sweet grades) to 4.1 percent (sour grades).
Last year, the Canadian Energy Research Institute estimated that 500,000 barrels per day of Canada's heavy oil output could be affected by the IMO cap, either in the form of a drop in demand or a drop in price to offset the cost of additional refining. However, producers of heavy oils also have the option of "upgrading" their crude in the field before selling it to refiners. Upgrading separates off lighter fractions and can desulfurize heavier fractions, but it requires the construction of an industrial plant that shares many of the functions of a full-scale refinery - a significant capital investment. About one-third of Canadian bitumen is upgraded before sale, according to Statistics Canada.