Hyundai Merchant Marine Ready to Order Twenty Ships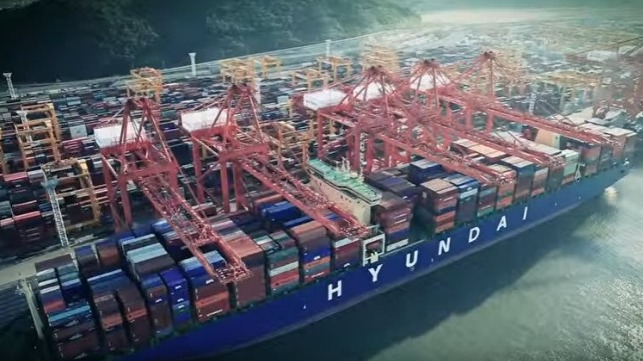 Hyundai Merchant Marine (HMM), South Korea's biggest shipping line, will soon place an order for 20 container ships with local shipbuilders.
The company wants 12 20,000-TEU and eight 14,000 TEU ships. The order is estimated to be worth over $2.8 billion. Shipyards are expected to be selected by June, and the company has a sent a request for a proposal to Hyundai Heavy Industries, Samsung Heavy Industries and Daewoo Shipbuilding & Marine Engineering.
The ships will either operate on LNG or have scrubbers installed. The 20,000 TEU ships will be used on Asia-North America trades, and the 14,000 TEU ships will service the Asia-U.S. east coast. Through this new shipbuilding, HMM says it will be able to secure stronger fleet competitiveness with the benefit of economies of scale.
Along with the fleet expansion, HMM is going to set a new mid-long term plan to enhance its global competitiveness to promote business normalization & shareholder value, and to create added value between shipping and logistics for mutual growth. To do so, HMM will boost its organizational capability, develop IT technology adopted in shipping, and expand global networks.
HMM has been making its concerted efforts in all sectors, since its restructuring plan was implemented in the second half of 2013. HMM has focused on securing financial liquidity through a restructuring plan including sales of controlling stake in affiliates and other property.
An HMM official said that "Through the acquisition of the most technologically advanced mega containerships, we can strengthen cost competitiveness and react rapidly to the international environmental regulations." And that "HMM will do its best to become a global top carrier to meet expectations of related organizations and shareholders."
Earlier this month, South Korea's Ministry of Oceans and Fisheries said the nation would place orders for about 200 vessels in the next three years to help its ailing shipping and shipbuilding industry. The plan is to build 140 bulk carriers and 60 container ships.
Approximately 80 percent of HMM's earnings come from container shipping; the remainder from bulk shipping. The company currently operates 90 ships of which 50 are container ships with a total capacity of approximately 330,000 TEU. Capacity is expected to reach one million TEU by 2020, the Ministry stated.