Hydrogen-Powered CSOVs to Reduce Emissions for Offshore Operations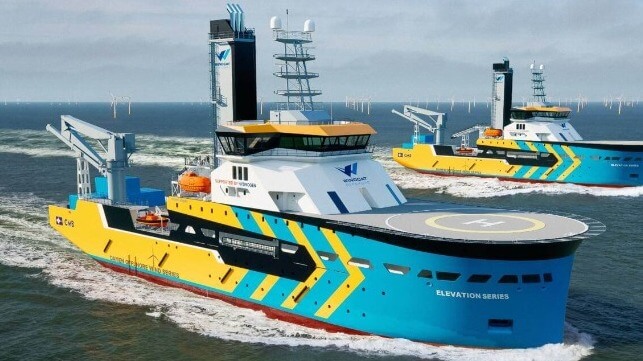 Windcat has commissioned Damen Shipyards to build a series of hydrogen-powered Commissioning Service Operation Vessels (CSOVs) to be built at one of Damen's yards in Vietnam.
Damen Shipyards have designed the new Elevation Series CSOVs in cooperation with Windcat and Belgian maritime conglomerate CMB. The service vessels will be 87 meters long and 20 meters wide, will accommodate 120 people on board, and will be powered by hydrogen. The series will be built at Ha Long Shipyard, Vietnam and will be delivered in 2025.
A CSOV is a vessel that remains in an offshore wind farm for an extended period of up to 30 days, providing maintenance materials, workshop space and hotel housing for technicians.
To significantly reduce the vessels' CO2 footprint, Windcat and CMB will provide the same dual-fuel hydrogen technology for the Elevation Series as found on board the Hydrocat 48, the world's first hydrogen-powered CTV (Crew Transfer Vessel). This approach will also make a critical contribution to developing rules and regulations related to using hydrogen as a fuel in medium-sized vessels.
The dual-fuel engine can be powered by hydrogen in combination with marine gas oil. Hydrogen fuel contains no carbon, and can significantly reduce carbon emissions while maintaining the same power output. The solution is being tested in Vestas' Hydrocat 48, and the trials will run until the end of the year.
For offshore wind operators, managing the carbon emissions associated with their offshore operations is crucial. Tightening ESG requirements demand that they account for scope 1, 2, and 3 emissions. It is generally accepted that offshore operations account for around a third of scope 1 and 2 emissions for operators; therefore, deploying hydrogen-fueled vessels will be key.
Currently, the ship is expected to be powered mainly through gray hydrogen (from natural gas) due to a lack of available green hydrogen in the amount needed.
"Damen is committed to becoming the world's most sustainable shipbuilder and is a recognized pioneer in the development of service operation vessels, having designed and built one of the world's first dedicated walk-to-work vessels five years ago," Joost van der Weiden, Sales Manager at Damen Shipyards, said. "These vessels have set a benchmark in the offshore renewables market and are still performing very well in the North Sea."