Hutchison Ports Plans $700M Investments in Egypt Building Regional Hub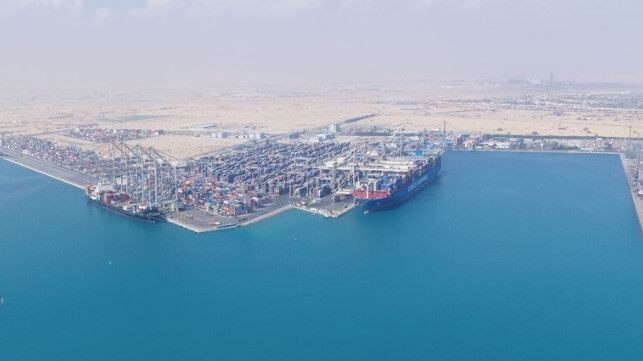 Global ports operator Hutchison Ports intends to compete for a bigger market in Egypt and to use its operations as a further base to build Mediterranean trade. The company signed an agreement that will see it invest $700 million in new terminals in two ports in a project that is designed to create a comprehensive logistical container axis linking the Red Sea with the Mediterranean.
The Hong Kong-based operator announced the massive investments will entail the development of a new container terminal in Ain Sokhna Port that will have a capacity of 1.7 million TEU. The new terminal will be equipped with state-of-the-art technology and equipment to provide efficient and reliable services to customers.
The investment program will also involve the development of B100, a new container terminal at the port of Alexandria, which will serve as a gateway to the Egyptian market.
Hutchison Ports said these projects will bring its total investment in Egypt to over $1.5 billion and provide a solid foundation for the company's strategy to expand its network and enhance its capabilities in emerging markets. Currently, the company's throughput in its port operations in Egypt stands at 800,000 TEU.
The signing of the investment agreement comes after the company entered into initial concession agreements to operate the container terminals in August last year. Hutchison Ports is partnering with CMA CGM and COSCO Shipping in the new project whose ultimate objective is to create a major transportation axis that would be the largest logistical corridor serving global trade, particularly between Asia, Europe, and Africa.
This is because the new container terminal in Sokhna will provide a significant boost to Egypt's maritime trade, as it is strategically located on the Red Sea and offers direct access to major shipping routes. The B100 container terminal will provide a new gateway to the port of Alexandria, which is one of the largest ports in the Mediterranean and a key hub for trade between Europe, Asia, and Africa. Alexandria is the oldest seaport in Egypt and handles about 65 percent of the country's inbound and outbound trade.
The link is expected to create more than 2,000 direct jobs for Egyptians and many indirect jobs because the logistical axis will involve inland cargo transportation through the country's high-speed electric trains thus connecting areas of production and consumption, logistical centers, and dry ports.
"We are delighted to announce our investment in Sokhna and B100, which reflects our commitment to Egypt and the wider African market. These investments will enable us to provide high-quality services to our customers and contribute to the growth and development of the local economy," said Eric Ip, Hutchison Ports Group MD.
Hutchison Ports' investment in Egypt comes at a time when the country is implementing a comprehensive scheme to upgrade its 17 commercial ports to boost trade and secure new markets for exports. Enhancing the competitiveness of its seaports will enable Egypt to attract more shipping lines and local and foreign investments. Maersk, MSC, Hapag-Lloyd, and CMA CGM have each announced plans to increase their capacity in Egypt as the country positions to be the trade hub for the Mediterranean.