Hurtigruten Unveils Concepts for Battery and Sail-Powered Cruise Ship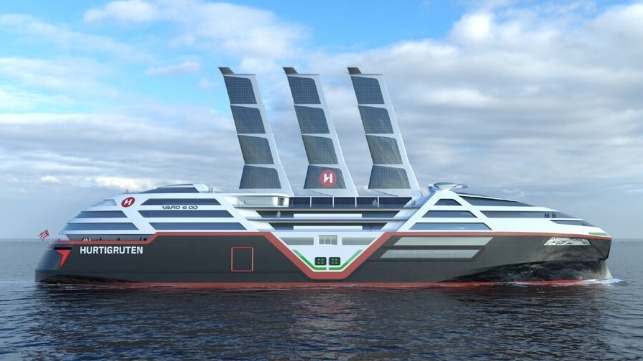 Coastal shipping company Hurtigruten Norway released the first designs for the company's proposed zero-emission cruise ship. After identifying and studying the most promising emerging technologies, Hurtigruten and its partners are proposing a cruise ship that would use batteries, retractable sails with solar panels, and AI technologies. The goal is to launch the first vessel in 2030.
"Following a rigorous feasibility study, we have pinpointed the most promising technologies for our groundbreaking future cruise ships. We are committed to delivering a ship that surpasses all others in terms of energy efficiency and sustainability within just a few years," said Hedda Felin, CEO of Hurtigruten Norway.
Designs for the cruise ship are the result of the first phase of the "Sea Zero" project launched a year ago by Hurtigruten and 12 maritime partners and the research institute SINTEF in Norway. They report that they identified what they view as the most promising technologies for future ships while noting that some of the technologies still require extensive research before commercialization.
The goal of the project is a small, custom-built ship that can operate sustainably on the Norwegian coast. Hurtigruten operates vessels along the coast between Bergen and Kirkenes making up to 34 port calls. The company has maintained the coastal service for 130 years since its inception in 1893. They view this design as the first step toward transforming the company's entire fleet into zero-emission vessels.
The design concept developed in the first year of research calls for a 443-foot long ship that would have 270 cabins accommodating 500 passengers and operated with just 99 crew. The ship would also have a cargo hold and space to transport cars. A streamlined shape will result in less air resistance and reduce energy use. In addition to ample outdoor space, enlarged surface areas and windows will increase passenger comfort.
"We are developing the concept for the world's most innovative cruise design and researching to find the optimal design methods suitable for zero-emission ships. The streamlined shape, with its innovative hull and propulsion solutions, not only reduces energy demand but also increases passenger comfort," said Henrik Burvang, Research and Innovation Manager at VARD, the design and shipbuilding company participating in the project.
The design concept is for ships powered by electric and equipped with batteries that charge in port. Combining 60-megawatt battery solutions with wind technology, Hurtigruten says the vessel is expected to feature numerous firsts and improved solutions that do not exist on cruise ships today, including retractable sails with solar panels, artificial intelligence maneuvering, contra-rotating propellers, and multiple retractable thrusters. Additional technologies include air lubrication, advanced hull coating, and proactive hull cleaning.
The three retractable, autonomous wing rigs will comprise 1500 square meters (16,146 square feet) of solar panels and a total wind surface of 750 square meters (8,073 square feet), reaching a maximum height of 164 feet when fully extended.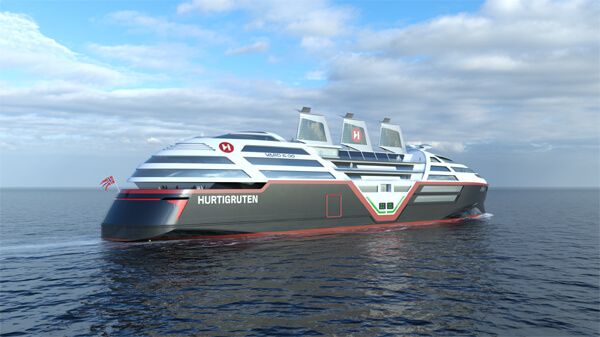 Sail/solar panels would be retractable (Vard Design)
They also look to AI technology to improve the operation of the vessel including navigation and as a result, the bridge area is expected to be significantly smaller. Hurtigruten Norway expects through its current operations on the coast and the use of AI to collect data that learns the most efficient docking and undocking methods for each port, improving in port operations in bad or challenging weather. AI they believe will contribute to enhanced maneuvering.
One of the key challenges that they have to overcome through new technology is the power used in hotel operations. Their goal is to reduce overall energy consumption by 50 percent versus the line's current ships while noting that half of a ship's power can be consumed in the hotel area. Passengers will be involved in the energy-saving through the use of an interactive mobile app to monitor and control water and energy consumption.
The Sea Zero project is now entering a two-year phase in which the proposed technologies will be developed further and tested. Hurtigruten highlights that the current research and development phase focuses on battery production, propulsion technology, hull design, and sustainable practices that reduce energy use to an absolute minimum.