Hurtigruten to Use Biogas to Power Cruise Ships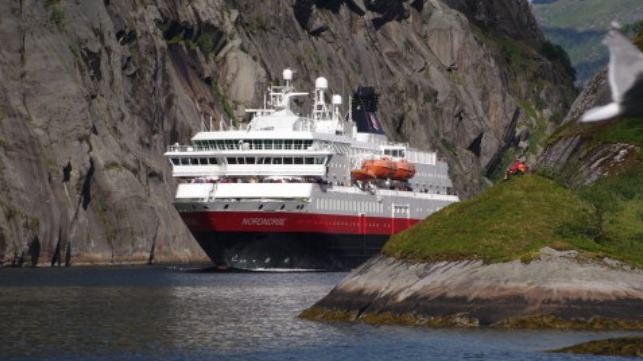 Cruise line Hurtigruten has announced that it will power its ships with liquified biogas - a fossil-free, renewable fuel produced from dead fish and other organic waste.
This will be a first for the cruise industry. Hurtigruten has 17 ships, making it the world's largest expedition cruise line, and by 2021, the company plans to operate at least six of its ships on a combination of biogas, LNG and large battery packs.
This year, Hurtigruten was the first cruise line to ban single-use plastic, and 2019 will see the company introduce the world's first battery-hybrid powered cruise ship, MS Roald Amundsen, custom built for sustainable operations in some of the world's most pristine waters, including Antarctica. It will also see the start of a large-scale green upgrade project, replacing traditional diesel propulsion with battery packs and gas engines on several Hurtigruten ships.
Hurtigruten is currently building three hybrid powered expedition cruise ships at Norway's Kleven Yard. The hybrid, battery-powered MS Roald Amundsen, MS Fridtjof Nansen and the third, unnamed sister, will be delivered in 2019, 2020 and 2021. Hurtigruten expects to invest more than $850 million in becoming the world's greenest cruise line and ultimately expects to operate its ships completely emissions free.
Norway, which has large fishery and forestry sectors that produces a steady volume of organic waste, has a unique opportunity to become a world leader in biogas production. Biogas is already used as fuel in small parts of the transport sector, especially in buses.
This solution eliminates the emissions of sulfur, NOx and particles, says Frederic Hauge, founder and general manager of the NGO Bellona Foundation. There are more than 300 cruise ships in the world, many of them running on heavy fuel oil. The daily emissions from one single mega cruise ship is claimed to be equivalent to one million cars.