Hurtigruten to Install LNG-Fueled?Hybrid Power on Nine Cruise Ferries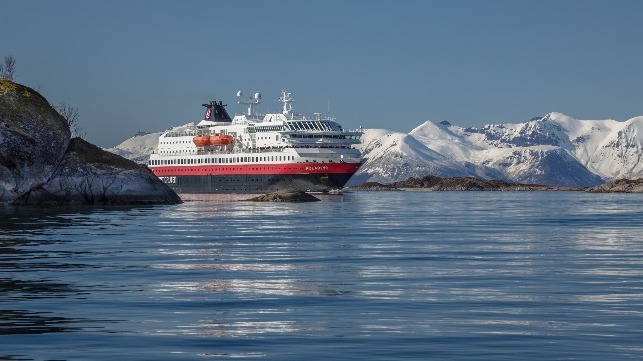 Norwegian cruise ferry operator Hurtigruten has announced a major investment in environmentally-friendly propulsion. Together with Rolls-Royce, it will repower as many as nine of its conventionally-powered cruise ships with LNG-fueled hybrid propulsion systems. The agreement is among the largest retrofit orders for LNG propulsion ever announced in the passenger vessel sector.
Hurtigruten's arrangement with Rolls-Royce includes hybrid power systems, battery packs and LNG-fueled engines for six existing passenger cruise vessels, with an option for a further three. The upgrade will enable the former diesel-powered ships to reduce their CO2 emissions by at least 25 per cent.
"This is an investment for the future, and a historic day for us, for the environment and for the whole, long Norwegian coastline," said Hurtigruten CEO Daniel Skjeldam. "The combination of battery packs with the most environmentally friendly and effective gas engines in the market will provide a huge gain for the environment."
Hurtigruten was recently awarded licenses by the Norwegian government for seven out of 11 coastal ferry routes. One of the key requirements from the government was a reduction in CO2-emissions. With its plans for a major upgrade, Hurtigruten will be able to continue operating its existing fleet on the route and meet these environmental standards at the same time. The new contract for the coastal route starts on January 1, 2021.
The agreement includes two of Rolls-Royce's gas-fueled main engines for each ship. Rolls-Royce will also supply its SAVe Cube power system, which uses a single integrated drive switchboard for the whole vessel. Additional battery power will also be installed, making the ships hybrid powered and reducing their fuel consumption. The retrofit will also include the Rolls-Royce Promas system, which combines rudder and propeller into one unit for efficiency gains of roughly two to eight percent, depending upon vessel type and speed.
Newbuild LNG-fueled passenger vessels are rapidly gaining traction: Carnival Corporation and Royal Caribbean have more than a dozen LNG-powered ships on order for delivery over the next five years, and in the ferry segment there are countless examples, including LNG-fueled hybrid vessels. However, retrofits of LNG-fueled propulsion on existing passenger vessels are somewhat less common, and Hurtigruten's order is among the largest announced. While LNG and hybrid propulsions systems can be integrated into a newbuild's structure from the start of the design process, retrofits require the naval architect to work within an existing layout. Challenges for conversions include finding space for LNG fuel tanks, avoiding stability issues with the addition of new equipment and minimizing the risk of gas leaks. Recent passenger vessel LNG retrofits include the BC Ferries Spirit-class ferries, the Spirit of British Columbia and the Spirit of Vancouver Island, which will be converted to dual-fuel capability as part of a $140 million midlife refit.