Hurtigruten Aims for Carbon Neutral Operations by 2050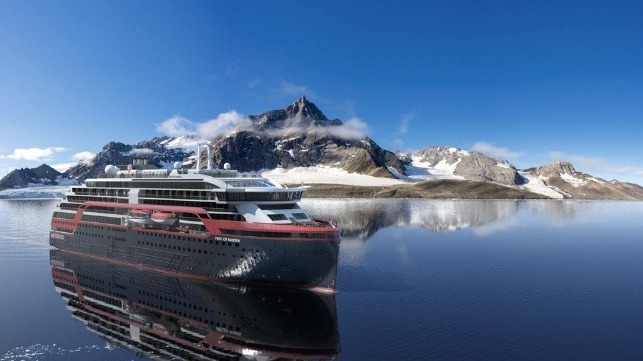 Norwegian cruise operator Hurtigruten is in talks to power part of its fleet using liquefied biogas (LBG) - a commodity comparable to LNG, but made using methane from biological sources rather than natural gas.
"We are talking about an energy source from organic waste, which would otherwise have gone up in the air. This is waste material from dead fish, from agriculture and forestry," said Hurtigruten CEO Daniel Skjeldam, speaking to Reuters. The fuel will be used in combination with LNG and with electric propulsion aboard six of its vessels, part of Hurtigruten's strategy to go fully carbon-neutral by 2050.
Biomethane is produced by anaerobic bacteria during the decomposition of organic matter, like manure, sewage or landfill waste. The technology for its capture, processing and use is well established - especially at wastewater treatment plants, where it is available in abundance - but it is rarely coupled with a liquefaction plant for producing cryogenic fuel.
Liquefaction of biomethane would allow its use for marine transportation applications, as bunkering systems for conventional liquefied methane - LNG - are also a proven technology. The natural gas mixture in LNG is about 90 percent methane, with small quantities of heavier ethane, propane and butane.
Hurtigruten also has two newbuild diesel-electric hybrids on order, the future Roald Amundsen and Fridtjof Nansen, and has just signed for a third ship with larger battery packs. They will be capable of limited periods of all-electric operation, and the first in the series is expected to be about 20 percent more fuel efficient than comparable conventionally-pwered vessels. The ships are under construction at Kleven Shipyard and are scheduled for delivery in 2019 and 2020. "Being able to sail using only electrical power is not only a great benefit to the environment, it will also enhance the impact of experiencing nature for the guests," said Hurtigruten CEO Daniel Skjeldam. Imagine sailing silently along the ice edge in the Arctic or Antarctica, or along the banks of the Amazon. That is truly unique and exceptional," says Daniel Skjeldam.