Human Smugglers Bought Jet Ski for Cross-Channel Trips
A court in the UK has convicted six men of conducting a "staggeringly reckless" plot to smuggle migrants across the English Channel using small boats and a jet ski.
According to investigators, Albanian nationals Artur Nutaj and Saba Dulaj, recruited Albanian migrants in the north coast of France for voyages across the Channel. A Kent-based group, led by the Powell family - father Leonard and his sons George and Alfie - provided the transportion. The group charged up to $7,500 per person to travel across the world's busiest shipping lane, at night, with inexperienced crews and no lights or radar, according to prosecutors.
In one attempted crossing, the group recruited 18 passengers for their six-person watercraft, the small RIB White Scanner. On May 28, 2016, the boat put into the water at Dymchurch, UK, on the Strait of Dover. Under the surveillance of the UK's National Crime Agency (NCA), the boat traveled across the busy channel, picked up 18 migrants on the French side and got under way for its return journey. However, the boat encountered foul weather, and the group had to be rescued by a UK Border Force cutter and a Royal National Lifeboat Institution rescue launch. The two-man crew of the White Scanner, Mark Stribling and Robert Stilwell, were later convicted and jailed.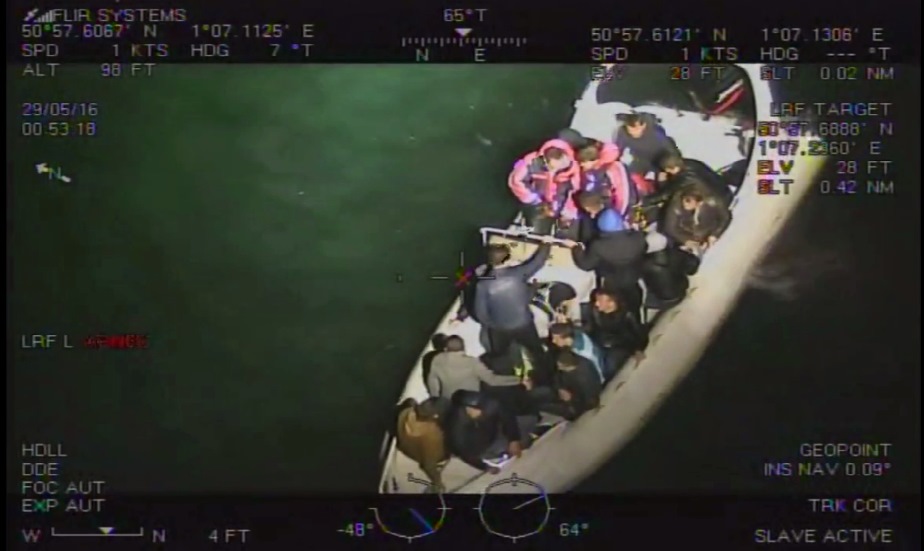 The rescue of the White Scanner (NCA / UK MCA)
For their next attempt, the gang purchased a larger boat, and the NCA planted a bug on the vessel to collect information on their plans and preparations. On July 25, 2016, this boat got under way from Ramsgate, bound for France. However, it also ran into trouble: on its outbound journey, it turned back due to foul weather, nearly collided with two vessels, ran out of fuel and had to make a Mayday call. It too was rescued by the Border Force and the RNLI.
After these failures, Leonard Powell, George Powell and Saba Dulaj decided to buy a smaller vessel - a Sea-Doo jet ski. This time they were arrested. When police in Kent raided the Powell family's farm the same day, they found narcotics, cutting agents and stolen vehicles, according to NCA.
In May, George Powell entered a guilty plea for his part in the conspiracy. Co-conspirators Wayne Bath, Saba Dulaj, Artur Nutaj, Albert Letchford, Leonard Powell and Alfie Powell pled not guilty, and were convicted on Tuesday. Two additional individuals were found not guilty.
"These men were involved in a staggeringly reckless plot to bring migrants to the UK illegally and in a highly dangerous manner. Were it not for the intervention of the NCA, Border Force and other agencies involved in this operation, including the Coastguard and RNLI, I am certain there would have been tragic consequences," said NCA regional head Brendan Foreman.