Hong Kong is the World's Top City Destination
Global market research company Euromonitor International has released its Top 100 City Destinations 2018 ranking report, covering the world's leading cities ranked by international tourist arrivals.
The ranking shows that six out of the top 10 most visited cities in 2017 are in Asia, with Hong Kong and Bangkok as the top two performers and with Singapore, Macau, Kuala Lumpur and Shenzhen in the global top 10. Asia accounted for 41 out of the top 100 cities globally in 2018, in comparison to 37 cities in 2012, with cities in Japan and India standing out for their strong growth in international arrivals.
Top 15
1. Hong Kong
2. Bangkok
3. London
4. Singapore
5. Macau
6. Paris
7. Dubai
8. New York City
9. Kuala Lumpur
10. Shenzhen
11. Phuket
12. Istanbul
13. Delhi
14. Tokyo
15. Rome
Cities in the Middle East and Africa region, such as Jerba, Sousse and Sharm el Sheikh have dropped out of the ranking in the past few years, mainly due to terrorist attacks and subsequent slumping demand. In contrast, strong growth was registered by Turkish cities, as the country rebounded from a turbulent 2016.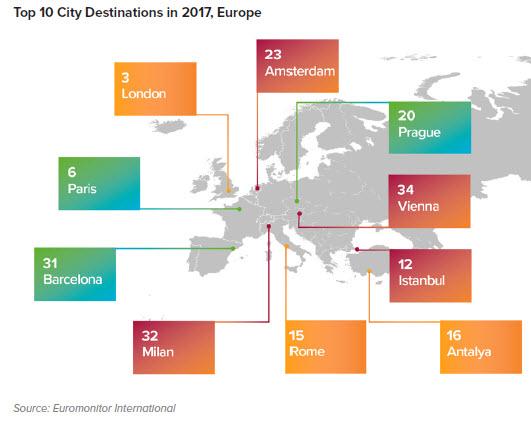 The U.S. has also faced turbulent times. In September 2017, the US National Travel and Tourism Office (NTTO) announced that visitor numbers had fallen by five percent year on year. Since then, however, the NTTO has revised its figures which now show a two percent increase in visitors in 2017. Most U.S. cities showed steady growth. The exception was Las Vegas, which struggled in late 2017 and early 2018 due to the aftermath of the mass shooting in October 2017, as well as a strong dollar.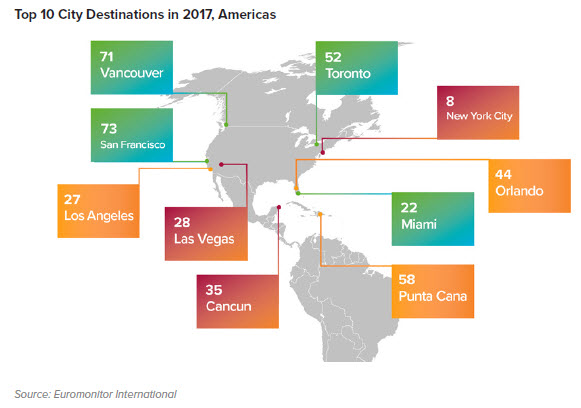 Three cities joined the top 100 ranking for the first time:
• Batam, in Indonesia, rose 31 positions since 2012 and strengths the group of Asian cities among the most visited cities in the world. The upward trend should continue, and the city is forecast to see a 12 percent increase in inbound arrivals in 2018.
• Chile features the ranking for the first time as its capital presented 18 percent growth in inbound arrivals last year, rising 17 positions in the ranking since 2012 to become the 93rd most visited city globally.
• After winning Europe's Leading Destination 2018 at the World Travel Awards, Portugal's Porto made the top 100 ranking for the first time, rising 42 positions in the ranking since 2012.
Global inbound arrivals are expected to grow by five percent to 1.4 billion trips in 2018, and arrivals to this year's top 100 city destinations are set to grow by 7.5 percent.
In 1900, only 15 percent of the world's population lived in cities. 2008 was the tipping point with more people living in urban areas than not. Today, there are 33 mega-cities with over 10 million inhabitants, and a further six will be added by 2030.
Euromonitor International's city arrivals research covers over 600 cities. This report highlights the top 100 cities based on 2017 arrivals from abroad. Each arrival is counted separately and includes people traveling more than once a year and people visiting several cities during one trip. Arrivals encompasses all purposes of visit, such as business, leisure and visiting friends and relatives.