HMS Queen Elizabeth's 200 Ton Engines Brought to Life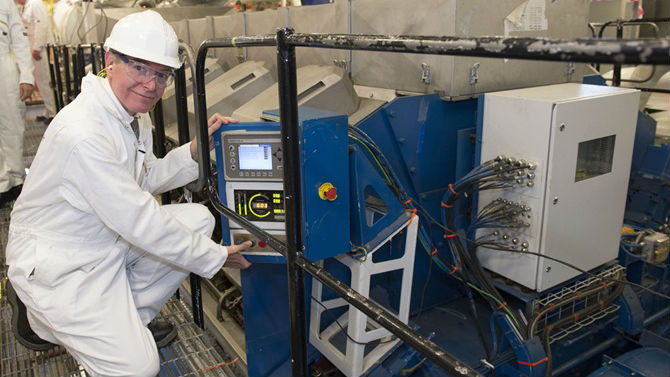 Aircraft carrier HMS Queen Elizabeth's diesel generators have been powered-up for the first time, marking a major milestone on its way to becoming an operational warship.
The 65,000 ton future flagship of the U.K. Royal Navy has undergone months of preparation work by the Aircraft Carrier Alliance (ACA) to start the first of her four diesel engines, which are directly coupled to the generators.
Together, each power unit weighs approximately 200 tons - the weight of two medium size passenger jets.
The diesel generator sets will provide sufficient electrical power to drive the ship at cruise speeds, but when higher speed is required, two gas turbine alternators will also be used. Together they will produce 109MW of power, enough to power a medium-sized town.
Minister of State for Defence Procurement, Philip Dunne, officially started the first of the ship's four diesel generators at the home of the UK's aircraft carrier program in Rosyth (Scotland) on Tuesday bringing the ship to life for the first time.
Dunne said: "Powering up the diesel generator today marks an important milestone on the journey to bring these highly versatile ships into service with our Armed Forces. They will be the largest, most capable and effective surface warships ever constructed in the UK. The build program is supporting thousands of jobs across the country, with over 4,000 of those jobs at Rosyth and the Clyde."
He also announced that BAE Systems has been awarded a £5.5 million ($8.5 million) contract to install a new Vessel Traffic Management System (VTMS) to assist in the controlling and monitoring of all ship movements within Portsmouth Harbour and the Eastern Solent to prepare for the arrival of the carrier, around the end of 2016, beginning of 2017.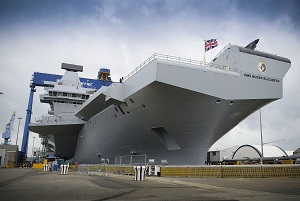 The new system installation, which is to be completed early 2016, is designed to provide the Queen's Harbour Master and the Vessel Traffic Service team with the situational awareness they require to control the vessels in their operational area.
As the largest ship ever built for the Royal Navy, the aircraft carrier:
• Has a height of 56 meters (184 feet), taller than Niagara falls;
• Has a length of 280 meters (920 feet) with a flight deck the size of 60 tennis courts;
• Has a 70 meter (230 feet) wide deck that could fit four jumbo jets alongside each other;
• Has a range of 10,000 nautical miles and carries enough fuel to transport a family car to the moon and back twelve times;
• Is fitted with a long range 3D radar that is capable of tracking more than 1,000 targets at once or can spot a tennis ball travelling at 2,000 miles per hour.
Operating with Lightning II fifth generation stealth Joint Strike Fighter jets, the QE Class will be versatile enough to be used in a full range of military tasks from warfighting to providing humanitarian aid and disaster relief.
Following sea trials (from 2017) and First of Class Flying Trials for helicopters and the F-35B Lightning II (starting in 2018), HMS Queen Elizabeth will undertake a coherent build up towards achieving an Initial Carrier Strike Capability in 2020.
The second of class HMS Prince Of Wales is now almost half complete at 30,000 tons. The forward island was installed in May 2015 forming the iconic carrier shape of the vessel. Initial operating capability of HMS Prince Of Wales is expected in 2023.
The aircraft carriers HMS Queen Elizabeth and HMS Prince Of Wales are being delivered by the Aircraft Carrier Alliance, a unique partnering relationship between BAE Systems, Thales UK, Babcock and the Ministry of Defence.