Photos: HMS Dragon Rescues 14 Yachtsmen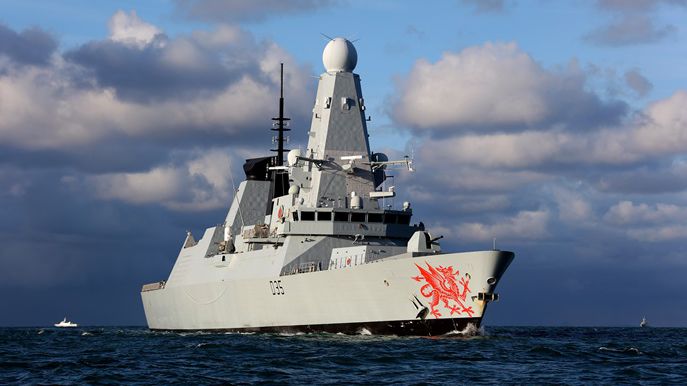 On February 11, the crew of the Royal Navy destroyer HMS Dragon rescued 14 yachtsmen from a sailing vessel in distress.
The 60-foot racing yacht Clyde Challenger was making a transit from the Azores to Britain when she was dismasted in heavy weather. "We got hit with a rogue wave coming in the opposite direction," said the yacht's captain, Roy Graham. "It hit us and knocked us over and dragged the crosstrees into the water, which dragged the mast into the water and snapped it at deck level."
The Clyde sent an EPIRB distress signal at 2000 hours on February 9. Several attempts by nearby merchant vessels to rescue her crew were unsuccessful, and the Dragon was diverted to assist instead. The Type 45 destroyer was 500 nm away, but she sprinted at 30 knots to close the distance, arriving at 1430 on Saturday.
"It was clear the yacht had lost its mast and looked in a pretty desperate state after nearly 48 hours drifting in the challenging conditions," said Petty Officer Max Grosse, the Dragon's chief bosun's mate. ""We were however hugely relieved to see all 14 crew alive and well. Despite racing through the night we only had three hours of daylight remaining in which to safely remove the crew."
Grosse said that the swell and prevailing weather made the rescue difficult, but the Dragon's small-boat teams were up to the task. All 14 yachtsmen were taken on board, and the Royal Navy says that they will be brought to shore at Lisbon. Sadly, the crew of the Dragon determined that it would be too risky to try to tow the Clyde Challenger with them, and the yacht was intentionally sunk by opening her seacocks.
"It took an uncomfortable 20 hours to reach [the Clyde] in the rough seas but I am . . . rightly proud of the efforts of my sailors in rising to this challenge," said Captain Craig Wood, the Dragon's commanding officer. "It is down to the capability of our ship and the skill of the men and women on board that we could accomplish this rescue in extremely difficult conditions."