HMM to Sign With "Big Three" Yards for 20 Boxships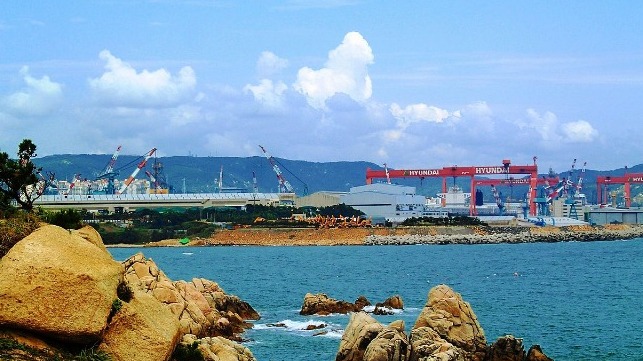 Hyundai Merchant Marine (HMM) has released new details of its plans to build 20 new container ships, including 12 vessels of 23,000 TEU each. All of the orders will go to Korean yards, in keeping with the goals of South Korea's state-backed shipbuilding program.
Five of the 23,000 TEU class ships will be built by Samsung Heavy Industries, and the remaining seven will be built at Daewoo Shipbuilding and Marine Engineering (DSME). The eight smaller ships - 14,000 TEU each - will be contracted to Hyundai Heavy Industries, and will be delivered in 2021.
Prices for the vessels have not yet been set, nor have final contracts, but HMM says that the details will be worked out soon. "We expect to sign letters of intent with the three shipbuilders in one or two weeks," said Woo Byung-sun, a spokesman for Hyundai Merchant Marine. In a statement, HMM said that it was interested in locking in a price in the near term, as the cost of materials and the volume of shipbuilding orders are both on the rise.
HMM recently launched an Asia-Northern Europe service using traditional Panamax ships of 4,600 TEU each, with calls at Busan, Hamburg, Hong Kong, Rotterdam, Shanghai and Singapore. The Asia-Europe trade lane is dominated by ultra-large container vessels of 18,000 TEU or more, which offer greater economies of scale relative to older, smaller ships. HMM's newbuilds will allow it to compete more effectively and to keep pace with competitors like CMA CGM and MSC, which have placed comparable 22,000+ TEU megaship orders.
In January, Hyundai Merchant Marine CEO Yoo Chang-Keun explained his company's shipbuilding orders and plans for expansion in terms of national identity. After the collapse of Hanjin Shipping, HMM became South Korea's sole trans-oceanic container carrier. "This will be the mega-ship building project in accordance with the national expectation for being a leading shipping nation," he said. "I would like to extend my sincere gratitude to people of Korea for supporting HMM."