Dismasting of Historic Maine Schooner Kills One and Injures Three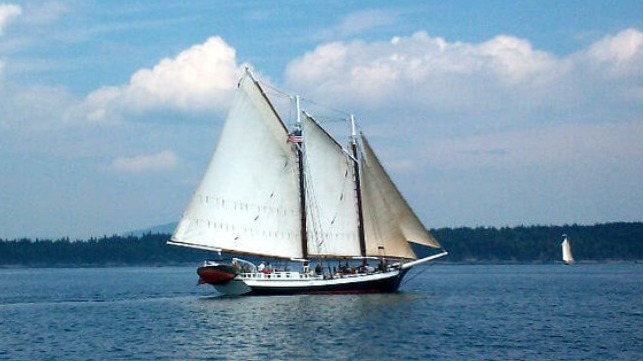 The mast aboard a historic schooner operating cruises on the Maine coast broke this morning killing one person aboard the vessel and seriously injuring three others. The 141-year-old schooner Grace Bailey was returning to Rockland, Maine at the end of a four-day cruise, her last scheduled trip of the season, when the mast broke around 10 a.m. on Monday.
The vessel built in 1882 has operated since the 1990s offering cruises. The owners report on their website that the vessel, which is 118 feet in overall length, is in original condition with the only major alteration being the addition of accommodations for 29 passengers. The ship was completing a Fall Foliage Cruise this morning when the mast without warning broke and fell onto the deck.
Charlie Weidman of a local marine service company told the Associated Press that he was among the first on the scene and found the crew already performing CPR. He reported that one of the victims had a head injury and that two others had had crush and spinal injuries.
The U.S. Coast Guard reports it received a distress call and sent a crew from Rockland to provide assistance. They rushed one woman with serious injuries to shore and EMS personnel but reported she was pronounced dead. They then ferried EMS personnel to the vessel to treat the three others who had been injured when the vessel's mast broke. The three people were transferred to EMS at Rockland Harbor and taken to Pen Bay Medical Center in Rockport.
The Grace Bailey was towed to port and was alongside by noon. The USCG says that an investigation is underway. They are reporting it was about one mile east of Rockport with 33 people aboard at the time of the accident.
"My crew and I are devastated by this morning's accident, especially since the safety of our guests is always our biggest priority. Most importantly, we are beyond heartbroken that we lost a dear friend," said the schooner's captain, Sam Sikkema, in a statement to the Associated Press.
Passengers who had been aboard the vessel for the cruise told The Portland Press Herald that the winds had been calm this morning. They said the vessel had not made any sharp movements before the mast just suddenly snapped. Pictures show the sails were up at the time and the mast broke about two-thirds of the way up from the deck.
The vessel appears to have been navigating back to its dock at the end of the cruise. The website reports it has no mechanical propulsion and if required it would be towed by a small vessel. The cruises operate without an itinerary, exploring different coves along the coastline.
The vessel was due to go into winter storage with the Marine Windjammer Association reporting it was not due to make its next commercial trip till June 2024.