High Winds Topple Gantry Crane at Wuhu Shipyard, Killing Three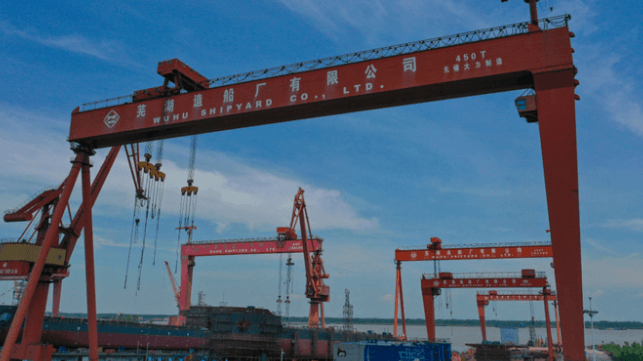 [Brief] High winds toppled a crane at an inland shipyard in Anhui Province, China, killing three people.
The city of Wuhu in Anhui Province was hit by a powerful storm system on Friday night. The wind speed reached Force 12, causing a 450-ton gantry crane at Wuhu Shipyard to fall over. It crushed a nearby security guard station, and three guards on duty were killed.
Severe thunderstorms also affected the broader region. In nearby Nanjing, high winds uprooted trees and flipped over cargo trucks. In Shanghai, far to the east, officials temporarily suspended inland passenger vessel services as a precaution.
The investigation into the cause of the accident at Wuhu Shipyard is in progress, according to local media. No further information was immediately available.
Wuhu Shipyard is a well-established midsize shipyard on the Yangtze, about 250 river miles inland from Shanghai. It has been in business since 1900, and it produces a range of high-spec specialty vessels for offshore energy, inland shipping and project cargo operators.