Head of DSME Will Step Down if Yard Can't Turn a Profit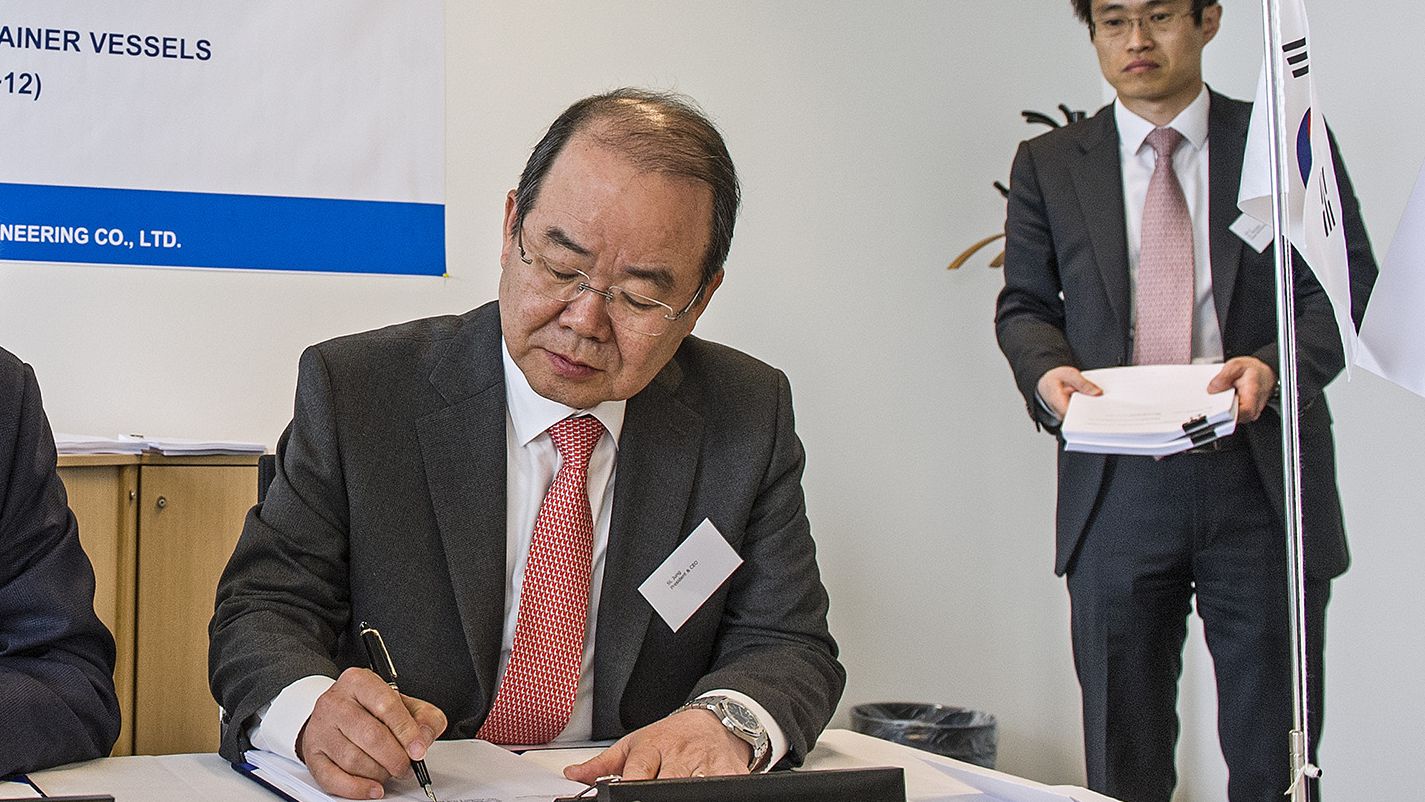 Jung Sung-leep, the CEO of troubled Daewoo Shipbuilding and Marine Engineering, has announced that he will step down if the firm can't turn a profit this year.
"Although there might be problems with liquidity, that has nothing to do with winning orders this year. Because we are full this year with orders already won, this year's profits depend on how well we make the ships," Jung told Reuters on Friday. "If by some factor we do not make a profit this year, it would be due to my shortcomings, and I must naturally step down."
Like other Korean shipbuilders, DSME suffers from a shortage of new orders, which bring in immediate down payments of up to 20 percent of the vessel's purchase price. Asset sales also appear to be coming to a close as a potential revenue source: Jung told reporters that all non-core assets have now been sold off (or are in talks for potential sales). "There's nothing else to sell," he said.
In a report last year, accounting consultancy PwC found that DSME is the "least likely to survive" of the nation's Big Three shipbuilders. The yard faces debt repayments totaling to more than $800 million this year, and the Korean government has repeatedly bailed out the yard with successive rounds of financial aid.
Jung's offer to step aside came just one day after the Korean government announced another rescue plan for the troubled shipyard. The proposal – which is in addition to an earlier cash infusion of $3.8 billion – calls for new state-funded liquidity of $2.6 billion. There is a catch, though: the yard's government regulators and state-owned creditors say that all other affected parties must also agree to a set of "burden-sharing" terms, requiring cooperation from the yard's workers, bondholders and commercial bankers. Creditors would see up to 80 percent of their debt converted into equity and would have to extend unsecured loans for an additional five years. The union would have to agree to additional layoffs and a salary cut of 20 percent.
If stakeholders cannot agree on a joint plan, it is likely that DSME will have to file for a prepackaged bankruptcy as early as next month. Jung warned on Friday that a court receivership could lead to a succession of order cancelations under the "builder's default" clause in vessel construction contracts. He noted that shipowners who had placed orders in earlier years would have an incentive to cancel, as newbuild prices have fallen by up to 20 percent due to the industry downturn.
In a sharp turn from previous announcements, Korea's state-owned banks said that if the bailout plan goes through, they will eventually seek an M&A deal to privatize DSME. To date, officials have insisted that the yard would remain independent.
Regulators scrutinize DSME's accountants
Separately, Korea's Financial Services Commission has determined that Deloitte Anjin – the nation's second-largest accounting firm – had "intentionally neglected or condoned" a long-running accounting fraud at DSME. The company could face up to $1.4 million in fines and a business suspension of up to one year. A final penalty will be announced on April 5.
Jung has also faced questioning about whether he may have participated in improper accounting practices. Korean investigators suspect that he may have instructed DSME's accountants to make the firm's performance and its capital impairment ratio look better, thereby avoiding problems with its stock market listing. Jung has denied any wrongdoing; two of his predecessors have been indicted in connection with the scandal, and one has been sentenced to ten years' imprisonment.