Head of Cosco's Finance & Leasing Arm Steps Down After Weak Results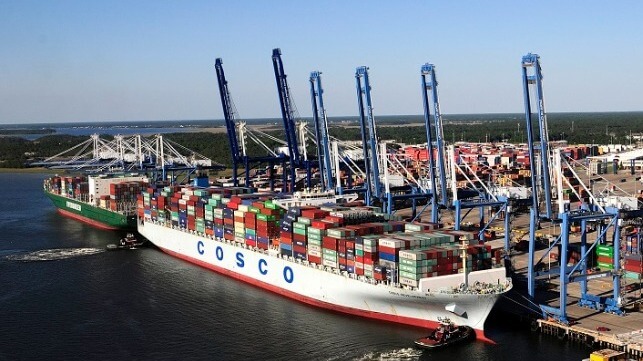 Three weeks after Cosco's shipping finance and leasing division reported a steep drop-off in profits, chairman Liu Chong has stepped down from all of his leadership and board roles, the company said in a stock listing announcement Tuesday.
The announcement - filed only in Mandarin - said that Liu had tendered a written resignation "due to personal reasons." Until Tuesday, Liu had been the firm's Party Committee chairman, executive director, chairman of the executive committee, chairman of the investment strategy committee and member of the nomination committee. He will no longer hold any position with the firm or its subsidiaries, the board emphasized.
Liu had "no differences of opinion with the company and the company's board of directors," and did not think that the details of his departure "warrant the attention of the company's shareholders and creditors," the firm reported. Normal operations will continue under the direction of a new executive, Zhang Mingwen.
Cosco Shipping Development is the ship finance, ship leasing and container leasing division of China Cosco, an arm of the Chinese state and the world's largest shipowner by tonnage. The finance division controls about $5.7 billion worth of vessel assets in all classes, including boxships, bulkers, tankers and LNG carriers.
The leasing division also has about 3.8 million TEU worth of containers under management, and operates factories with capacity to build 1.4 million TEU per year.
On October 31, in its quarterly report, Cosco Shipping Development said that its profit attributable to shareholders had dropped by 67 percent in the first three quarters of the year (and 90 percent for the third quarter on its own). The firm explained the sharp decline as a consequence of the slowdown in the containerized freight industry, which has hit all market players.
Liu is simultaneously stepping down from two other board positions at unrelated firms. Until Tuesday, he had also served as a director of China Merchants Securities and Everbright Bank.