Harvey Gulf Doubles Down on LNG Bunkering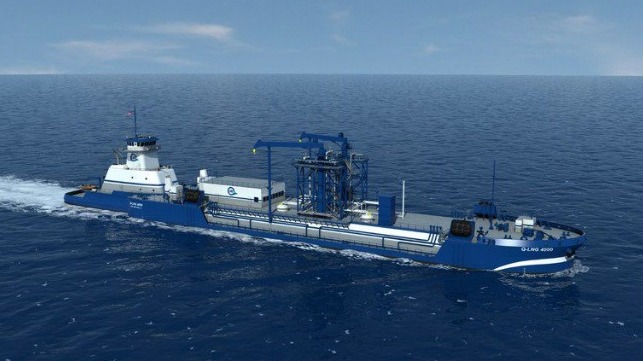 The Harvey Gulf partner company Q-LNG Transport has announced a preliminary agreement with VT Halter for a second LNG bunkering articulated tug and barge unit. The vessel will be built on speculation, and will be twice the size of the LNG barge that Q-LNG has chartered to Shell.
Last November, Shell's U.S. trading division signed a charter with Q-LNG to build, own and operate a 4,000 cubic meter LNG bunkering barge and an associated tug. This ATB will operate in the southeastern U.S., providing bunkers to cruise ships. Shell has an agreement with Carnival Cruise Line for bunkering services for two new LNG-fueled vessels, which are scheduled to enter service in the Caribbean market in 2020-2022.
VT Halter began construction on the ATB unit for this contract in March 2018. On Wednesday, Q-LNG announced plans for a second, 8,000 cubic meter unit that will be built on speculation, without advertised participation from Shell.
"With the past and recent announcements by major cruise lines to build and deliver LNG powered cruise ships to the U.S. market, Q-LNG is committed to deliver the safest, most cost effective solution to the cruise line industry," said Shane Guidry, the chairman and CEO of offshore vessel operator Harvey Gulf and the owner of Q-LNG. Guidry hold a 70 percent stake in Q-LNG, and Harvey Gulf owns the remaining 30 percent.
Guidry said that while the new barge will be twice as large, it will share the DNA of the original 4,000 cubic meter model chartered to Shell. To save cost, it will take advantage of the previous hull's detail design, engineering, equipment specifications, supplier relationships and lessons-learned during construction. "Thus, Q-LNG will be able to deliver the follow-on design in a shorter period of time at a highly competitive price," Guidry said.
Separately, Harvey Gulf announced Wednesday that it will flag out some of its American offshore supply and fast supply vessel fleet for operations abroad. "The reflagging of vessels into Mexico and deploying safety and operations personnel shows we're committed. The same is true for Trinidad and Guyana. We will deliver our vessel safety and operational performance to both countries on a quick turnaround basis," Guidry said in an announcement.