Hapag Says Markets Normalized and Should Begin Recovery in Second Half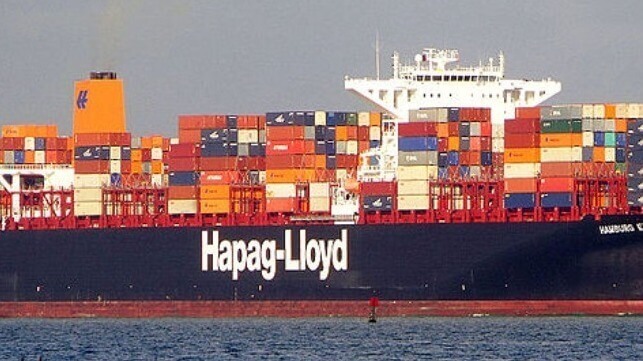 Hapag-Lloyd, the fifth largest ocean carrier, joined others in the industry reporting significant declines in first quarter results while also pointing to signs that the sector may be bottoming out and could begin to see some upward movement in the second half of 2023. While results were down from the records of 2022, Hapag remained solidly profitable reporting earnings of approximately $2 billion in part due to better than expected performance led by the strength of its routes to South American and Latin America.
"Despite declining results, we have made a robust start to the current financial year," said Rolf Habben Jansen, CEO of Hapag-Lloyd. "We are pressing ahead on further developing our group's 'Strategy 2030', which will focus on quality and sustainability," he told investors while saying the company would also keep a close eye on costs and capacity.
He highlighted that new vessels would mostly not be entering the market till the second half of 2023 when he expects destocking will be completed and they could begin to see better volumes heading into the 2023 holiday retailing season. Noting that Hapag has new vessels as well as end-of-life tonnage that will be headed for recycling, he forecast that the inflow of new capacity will be partly offset by increasing scrapping activities and slow steaming.
Hapag reported a nearly five percent decline in volumes to just over 2.8 million TEU for the first quarter versus 2.9 million in the first quarter of 2023. Some of the South American services were operating full during the first quarter and they saw an increase of eight percent on Atlantic routes offsetting the weakness in Asia.
"The market environment has normalized, with corresponding declines in demand and freight rates," said Habben Jansen. While admitting rates had fallen to low levels, he reported Hapag had averaged nearly $4,000 per container while remaining well above rates before the pandemic. He said however that some contract rates were coming in at unsustainably low levels and that Hapag was not entering into contracts which it knew upfront would be a loss. He predicted that costs would drive rates up as carriers were also taking steps by reducing capacity and canceling sailings. He forecast that rates had to stabilize at least 25 to 30 percent above pre-pandemic levels because that is the level of cost increase for carriers.
His near-term outlook for the second quarter is "subdued," but he noted that they were seeing signs of volume improvements. He also noted that the volume declines began a year ago during the third quarter saying that at some point the industry would crossover with the trendline starting to show growth off of last year's low levels.
The largest uncertainties that Hapag highlights are largely beyond its control. They pointed to continuing inflationary pressures and geopolitical uncertainties, including the ongoing war in Ukraine, as the factors that could negatively impact forecasts. While admitting that the start of 2023 has not been easy, Habben Jansen and Hapag reconfirmed their March 2023 outlook. The company has already achieved 44 percent of the high-end of its forecast in the first quarter ($1.9 billion EBIT). The range for earnings (EBIT) for the year is projected between $2.1 and $4.3 billion.