[Updated] Hanwha Group Closes in on World's Third-Biggest Shipyard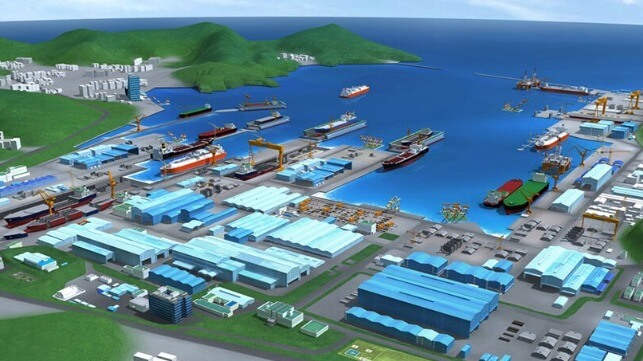 According to industry insiders, Hanwha Group will sign a contract to acquire Daewoo Shipbuilding & Marine Engineering (DSME) this week. Hanwha, South Korea's seventh largest conglomerate, is expected to buy a 49.3 percent stake and management rights in the world's third-largest shipbuilder at an estimated $1.5 billion. It has recently completed its due diligence and initiated a final legal review.
DSME has grown into the world's premium shipbuilding and offshore contractor specializing in building offshore platforms, drilling rigs, FPSO/FPUs, submarines, and destroyers. The shipyard, which spans an area of 4.9 million square meters, encompasses the world's largest dock with a million-ton capacity and is optimized for building high-tech motor vessels using cutting-edge equipment, including a 900-ton goliath crane.
The shipyard reported a financial loss of nearly $1.2 billion in 2021 after strong profitability the year before. Like the other major shipbuilders, DSME has built a strong orderbook over the past two years during the surge in new construction orders. The strong demand for LNG carriers has benefited the shipyard which is recognized as one of the leaders in building the higher value gas carriers.
Back in September DSME reported that it had received a further order for six LNG carriers valued at $1.29 billion. With that order, the shipbuilder said that it had achieved its target for 2022 orders valued at $8.9 billion. It was the second consecutive year that the order target has been met. The company reports its order book includes 34 LNG carriers, six containerships, and one offshore plant.
KDB, which has been the majority shareholder in the shipyard for more than 20 years, said earlier this year that the company needed a private investor to focus on the long-term and enhance its financial position. Previous efforts to sell the shipyard included an agreement to merge DSME with Hyundai. The European Union objected to the merger saying it would greatly reduce competition for new LNG carrier construction.
The preliminary agreement was signed in September. Since then, the group has conducted a six-week due diligence on DSME. Nothing out of the ordinary has been found during the review, and the sale price is expected to remain unchanged at $1.5 billion. With the acquisition of the shipbuilder, Hanwha Group will be able to diversify its business portfolio to shipbuilding, adding to solar energy, civil defense, and finance. As a result, it is reported that the group's total assets will increase to more than $69 billion.