Hamburg Receives Approval to Dredge the Elbe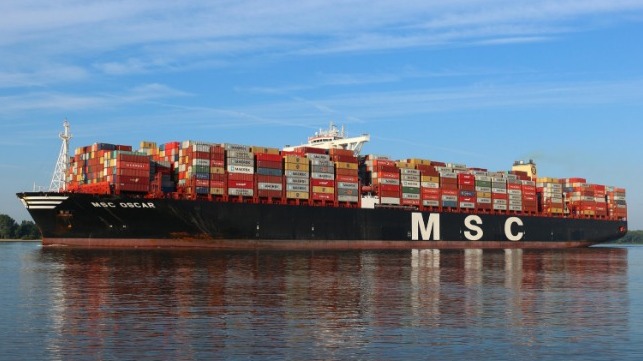 The long-fought legal battle over the deepening of the Elbe may be nearing an end. The Port of Hamburg announced Thursday that it has received regulatory approval for the giant project, its top infrastructure priority, and it can now engage contractors to move ahead with work immediately.
The $700 million project will add 2.4 meters of depth to the port's 44-nm-long channel, which would be enough for large container ships to transit with about 1,800 TEU more on board than they can carry today. In addition to a deeper channel, the project will create a wide "passing box" where inbound and outbound ULCVs will be able to navigate around one another, thereby improving traffic flow. If legal appeals do not slow its progress, the project will likely be complete by 2020.
Hamburg is already equipped to handle ULCVs with nameplate capacities over 20,000 TEU, and the port says that the channel restrictions on the Elbe are the only technical obstacle to handling more traffic. "This is very good news for our trading and shipping customers worldwide and for the whole Hamburg Metropolitan Region," said Axel Mattern, joint CEO of Port of Hamburg Marketing. "We have waited a long time for today and are now hoping for rapid implementation," added Ingo Egloff, his Executive Board colleague.
Hamburg lost container volume last year, with throughput down by about one percent. Meanwhile, regional powerhouse Rotterdam saw its throughput rise by nearly ten percent, and Antwerp's volume rose by four percent. In a statement, Mattern explained that the Elbe was one of the leading causes for the loss of market share. "Against the background of the still outstanding fairway adjustment on the Elbe [and santions on Russia] . . . the result in the container segment is in line with our expectations," he said.
While the approval for the Elbe deepening could help the port to boost its numbers, it is not yet certain whether legal challenges will continue. Environmental groups like Friends of the Earth Germany (BUND) and Nature Conservation Union Germany (NABU) could still file an appeal with the Federal Administrative Court in an attempt to block the dredging program.