GTT Suspends Work in Russia to Comply with Sanctions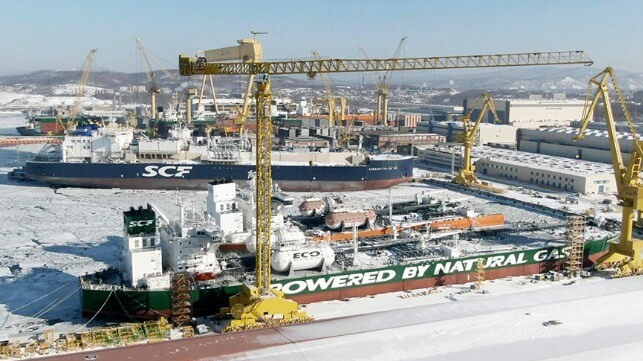 GTT, the French engineering company that develops containment systems for the shipping and storage of LNG, is stopping its work in Russia and suspending most activities to comply with international sanctions placed against Russia after the invasion of Ukraine. It is the latest blow to the Russian energy and shipping industries as efforts continue in an attempt to strengthen the prohibitions against Russian interests.
"Following an in-depth analysis of European sanction packages numbers eight and nine, notably prohibiting engineering services with Russian companies, the group announces that it is ceasing its activities in Russia," GTT said in a release on January 2. "As of January 8, 2023, the contract with Zvezda will be suspended and GTT's interventions will be limited, on the two most advanced LNG carriers, to ensuring the safety of the projects and the integrity of the technology."
Recognized as the global leader in containment technology, GTT works with shipping companies and shipbuilders around the world and licenses its technologies. GTT reports it is currently involved in Russia in the tank design of 15 ice-breaking LNG carriers under construction by the Zvezda Shipbuilding Complex, as well as in the design of three Gravity Based Structure units for Saren, which is a joint venture between Saipem and Rönesans.
While work within Russia is suspended, GTT however is currently proceeding with other projects happening in Asia for Russian interests. Zvezda and the Russian shipping company Sovcomflot have also worked with shipyards including Hyundai Heavy Industries and Daewoo Shipbuilding & Marine Engineering on projects. GTT highlights that currently it has other orders under construction in Asian shipyards, relating to six ice-breaking LNG carriers and two FSUs, which are intended specifically for Russian Arctic projects. Additionally, eight conventional LNG carriers ordered by international shipowners, under construction in Asian shipyards, are also intended for Russian Arctic projects but can operate in all types of conditions. All these projects are proceeding normally the company says and are unaffected by its efforts to comply with the sanctions.
The contacts that are being suspended had a remaining value of €86 million ($90.6 million) for GTT with the LNG carriers due to completion by 2025 and the structures for Saren by 2027. The six ice-breaker LNG carriers under construction in Asia represent a further €31 million ($32.7 million) in revenues for GTT to be recognized by 2024.
GTT says "it remains sensitive to the evolution of the situation and is taking all necessary measures to protect its employees and stakeholders, in compliance with international sanctions." The terms of GTT's departure for the Saren projects are currently being finalized
Recently, Zvezda along with Sovcomflot celebrated the completion of their latest ice-breaker tanker. Sovcomflot however had been forced to forfeit projects with South Korea's Daewoo Shipbuilding & Marine Engineering when the sanctions prevented them from making installment payments. DSME recently said it plans to complete the vessels for its own account.