Grounding: Tiller Reversed Red and Green Color Code
Ambiguous communications and incorrectly installed backup steering controls led to the January 2016 grounding of the container vessel MSC Monica in Canada.
The MSC Monica was en route from Montréal, Quebec, to Saint John, New Brunswick, with a helmsman, the officer of the watch, and two pilots on the bridge. The vessel ran aground on the St. Lawrence River one nautical mile north-northeast of Deschaillons-sur-Saint-Laurent, Quebec.
She was refloated the following day with the assistance of three tugs and proceeded to Québec, Quebec, to undergo the necessary inspections. The vessel sustained minor damage to its hull and major damage to the propeller. There were no injuries or pollution reported.
In its investigation report, the Transportation Safety Board of Canada (TSB) found that the MSC Monica unexpectedly veered to starboard, likely due to the helm being inadvertently placed to starboard. The subsequent communication between the helmsman and the pilot navigating the vessel was ambiguous, which led the pilots and the officer of the watch to conclude that there was a steering gear failure.
The second pilot then switched to the backup steering system. However, its control was not installed consistently with international standards or with the manufacturer's specifications. The second pilot, who was unfamiliar with this particular installation, unintentionally applied a hard turn to starboard rather than a hard turn to port while attempting to maintain the vessel in the buoyed navigation channel. A delayed hard to port course correction was applied by the officer of the watch; however, the vessel eventually ran aground.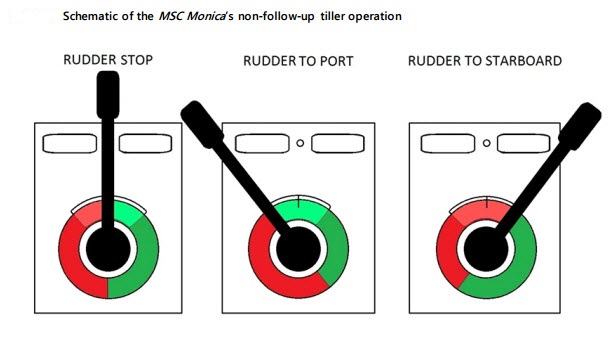 By internationally recognized maritime standards, the color red signifies the port side, while the color green indicates the starboard side. On the MSC Monica, the non-follow-up tiller was connected to the control system in an inverted manner. As a result, the red/green color code operated in contradiction to the international standards.
Following the occurrence, the backup steering control was correctly reinstalled in accordance with the manufacturer's recommendations. Although no steering malfunction was identified, the owners of the MSC Monica overhauled several steering gear system components and replaced various control and navigation equipment on the bridge during the periodic drydocking of the vessel, which took place in Turkey during the fall of 2016.
The report is available here.