Grounding: Master was Multi-Tasking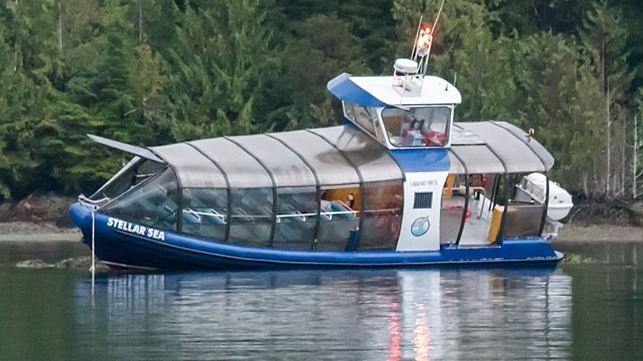 The Transportation Safety Board of Canada has released its report into the October 2016 grounding and abandonment of the passenger vessel Stellar Sea in Warn Bay, British Columbia, stating that insufficient passage planning and inadequate lookout for hazards contributed to the incident.
On a cloudy afternoon of October 1, 2016, the Stellar Sea, with 26 passengers and two crew members on board, departed Tofino, British Columbia, on a bear-watching excursion. The master navigated the vessel along the confined shallow waters of Fortune Channel while, at times, looking out for wildlife. The master was also communicating with the company, the deckhand and the passengers. After spotting a bear in Warn Bay, he navigated in its direction. At approximately 1744, the Stellar Sea struck a rock and went aground, causing two passengers to fall and sustain minor injuries.
The company dispatched two vessels to rescue the passengers. Nine of them boarded the first vessel to arrive. However, as the ebbing tide caused the Stellar Sea to heel progressively to port, the remaining 17 passengers were instructed to abandon ship and move onto the rock until the second rescue vessel arrived. The Canadian Coast Guard (CCG) was informed of the occurrence four and a half hours after the grounding and once the passengers had been safely evacuated. The vessel was refloated and towed on October 3 for inspection and repairs.
The investigation determined that there was insufficient passage planning prior to the occurrence. Planning did not include strategies to identify and mitigate the risks posed by navigating alone in a challenging marine environment, filled with numerous hazards, such as rocks, reefs and a large tidal range. For example, the chart plotter and the echo sounder system were not used to their full potential, and available safety zone alarms were not enabled.
The investigation also found that there was inadequate lookout for hazards during the voyage. No dedicated lookout had been posted. The master, alone in the wheelhouse, was performing multiple tasks that interfered with his ability to focus on the course ahead. As a result, no one saw the protruding rock in time to prevent the accident.
In June 2017, in response to the 2015 capsizing of the whale-watching vessel Leviathan II, the Safety Board recommended to Transport Canada that it require commercial passenger vessel operators to adopt explicit risk management processes and that it develop comprehensive guidelines to assist with the implementation and oversight of those processes.
In March 2017, Stellar Sea's owner company updated the emergency and operational procedures manual to emphasize the requirement to contact the CCG in an emergency. The frequency of safety drills was also increased.
Image Credit: Dmitry Cherov: The Stellar Sea 75 minutes after the grounding.