Grimaldi Launches Rare Example of Conro with New Ship Class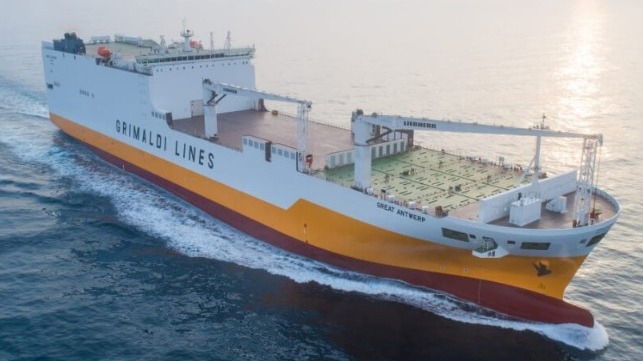 Representing the first of a new generation of ships and a rare example of a multipurpose Ro-Ro, Grimaldi Group's new ship the Great Antwerp is currently on her delivery run to Italy after delivery from her builders in South Korea. The 45,684 dwt vessel registered in Italy will soon be deployed by Grimaldi Group between Northern Europe and West Africa as the first of six ships of the G5 class the Italian company plans to introduce in 2023 and 2024.
Known as a Conro (container roll-on-roll-off) the Great Antwerp is a rare example of a style of ship that has generally fallen out of favor in the industry. It is nearly a decade since Grimaldi Group introduced the prior G4 class in 2014 and 2015. Grimaldi highlights the new ships as an evolution of the older class, which was also built by Hyundai Mipo Dockyard, with improved efficiency and environmental considerations but the same flexibility and multipurpose capabilities.
According to Alphaliner, the Great Antwerp is the first example of a deep-ocean Conro delivered in six years. Alphaliner highlights that the previous example of this style, the Atlantic Sun (55,649 dwt) was introduced in May 2017 also by Grimaldi for the transatlantic service of ACL with only Grimaldi, Linea Messina, and the National Shipping Company of Saudi Arabia (Bahri) today operating Conros on long-distance routes. U.S. flag operators Crowley and Matson also operate Conros, introducing their newest ships between 2018 and 2020, but Alphaliner excludes those ships as they were built for the inter-coastal Jones Act routes between the U.S. mainland, Hawaii, and Puerto Rico.
"The delivery of this ship marks the beginning of a new era for our group," said Guido Grimaldi. "After the success of our five G3-class, six G4-class, as well as 10 Eurocargo-class ships, all built by Hyundai Mipo Dockyard Co., we now inaugurate a new class of Ro-Ro multipurpose vessels called 'G5'. This new series of ships respond even more efficiently to the demand for quality transport services on deep sea routes and to the needs related to the protection of the environment. We are thus taking a further important step within a path undertaken for several years now, aiming to operate on our main routes with a young, modern, and eco-sustainable fleet."
The first example of the G5 class, Great Antwerp was delivered by her builders Hyundai Mipo on April 18 to Grimaldi. The ship is currently nearing Saudi Arabia on her delivery trip to Italy. With a length of 820 feet and a beam of nearly 125 feet, Grimaldi highlights that the new class has the same capacity for rolling freight while their container capacity has been doubled. They have a customized internal configuration giving them the capacity to transport 4,700 linear meters of rolling freight, 2,500 CEU (Car Equivalent Units), and 2,000 TEU.
In addition to loading capacity, the Great Antwerp's design incorporates technology aimed at increasing energy efficiency and reducing environmental impact. Both the main engine and the auxiliary diesel generators will meet the NOx levels imposed by the Tier III regulation, while the integrated propulsion system between the rudder and propeller will minimize vortex losses and, consequently, optimize propulsive efficiency, and reduce fuel consumption.
The vessel is designed for cold ironing with the shoreside supply of electricity when available, and the onboard electrical consumption of the machinery (pumps, fans, etc.) is reduced by the installation of variable frequency drive devices. The hull is coated with low friction paints to reduce hull resistance, and the ship is equipped with hybrid exhaust gas cleaning systems for the abatement of sulfur and particulate emissions. Grimaldi expects the vessel to reduce CO2 emissions by up to 43 percent per tonne transported compared to other Grimaldi Ro-Ro multipurpose ships.
Grimaldi remains the largest Conro operator with 35 ships sailing on routes between Europe, North America, West and Central Africa, and the East Coast of South America. Delivery of the G5 class will be completed by July 2024. Alphaliner notes there are no other examples of this type on order and expects that neither Linea Messina nor Bahri is planning additional orders of Conros in the near future.