Greenpeace Blockades Tanker Shipment of Wastewater From Norway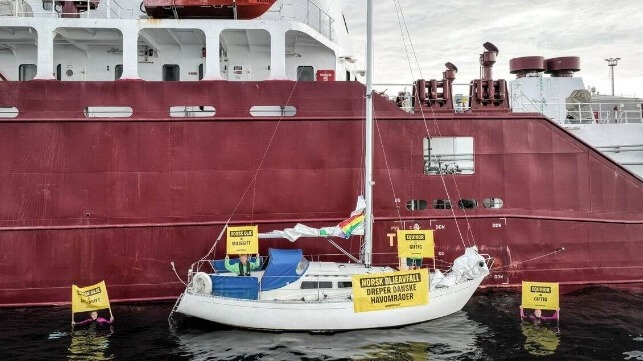 On Sunday, four activists from Greenpeace Nordic briefly delayed a tanker carrying wastewater from the Norwegian oil industry to Denmark.
The activists used divers and magnets to attach a small sailboat to the hull of the tanker Bothnia, which was transporting about 9,000 tonnes of contaminated wastewater from the Equinor refinery at Mongstad. Greenpeace contends that the long-running export arrangement is a violation of the Basel Convention, the international treaty regulating exports of hazardous waste.
For 25 years, the Norwegian oil industry has exported produced water - an oil production byproduct - to Denmark. On the order of 150,000 tonnes of the wastewater is shipped on this trade lane each year, and at the receiving end it is treated and then released into Danish waters. Norwegian state-owned oil company Equinor is one of the main companies involved in this trade, according to Greenpeace.
The current treatment method is not set up to remove PFOS and PAHs from the water, Greenpeace asserts, and it has received anecdotal reports of reduced fish populations near the outflow.
"For too long, Equinor has avoided taking responsibility for its waste and instead passed the problem onto our neighbours in Denmark to deal with. This has to stop," said Tale Hammerø Ellingvag, campaigner at Greenpeace Nordic.
The Greenpeace activists held up protest banners with the message "Equinor = toxic", and they painted the slogan "EQUITOX" on the side of the tanker. The crew responded with a firehose and swiftly washed it off.
"Our demand is simple: Equinor must immediately stop the export and clean up its own mess," said Cinta Hondsmerk, activist from Norway.
As of Sunday night, the Bothnia was still moored alongside at a pier at Mongstad, according to AIS data collected by Pole Star.