Greenpeace Blocks Palm Oil Delivery at Rotterdam Port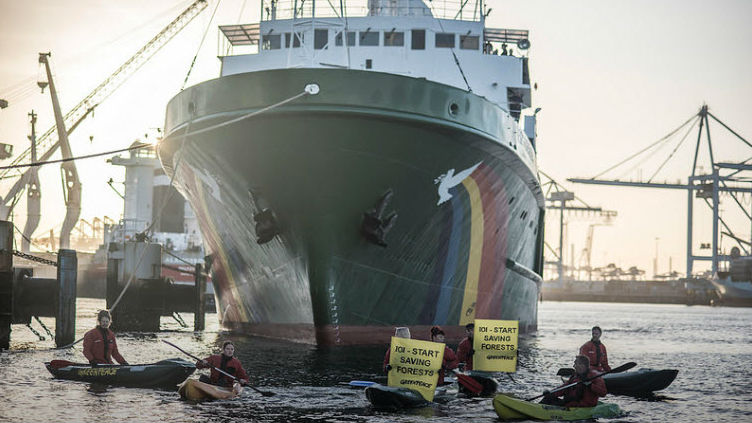 On Tuesday, Greenpeace activists blocked operations of Malaysian palm oil trader IOI at Rotterdam Port, accusing it of forest destruction and child labor, but other traffic at Europe's busiest port was unaffected, a port spokesman said.
Plantation industries such as palm oil have been clearing rainforests and draining peatland for years, creating ideal conditions for the extensive forest fires that have ravaged Indonesia over the past two decades, says Greenpeace. Last year's fires were catastrophic, blanketing the region in a choking smoke haze for months. Between July and October 2015, more than two million hectares of Indonesian forest and peatland burned, an area half the size of the Netherlands. The resulting smoke haze caused an estimated 100,300 premature deaths across South East Asia in 2015, a Harvard and Columbia study revealed last week.
Two Indonesian men who have been directly affected by forest fires are blocking access to the refinery with eight activists.
The ten people are blocking IOI, one of the world's biggest producers and traders of palm oil, from accessing its refinery, and the Greenpeace ship Esperanza is preventing oil from being unloaded from incoming tankers, Greenpeace said.
"Palm oil trader IOI is unknown to the general public. This serves the company well, as it can get away with practices that could not bear public scrutiny," said Annisa Rahmawati, forest campaigner at Greenpeace Indonesia.
"Together we will change that. IOI should know that the world is watching and that there is no market for palm oil that is so destructive to Indonesia, the habitat of endangered species, our shared climate and the people of South East Asia."
Greenpeace has delivered IOI a way to lift the blockade, by leaving a statement on its doorstep for the company to sign and by doing so commit to a sustainable palm oil supply chain. If IOI agrees publicly to commit to protect forests, Greenpeace will end the action and lift the blockade.
The action, which began mid-morning, was focused only on one mooring place used for palm oil coming from Indonesia and was therefore not disrupting other traffic, port spokesman Tie Schellekens said.
Rotterdam Mayor Ahmed Aboutaleb had travelled to the spot in order to seek a compromise.
"There is no resolution yet," Schellekens said.
IOI could not immediately be reached for comment.
In April, the Roundtable for Sustainable Palm Oil (RSPO) withdrew IOI's 'sustainability certification' after allegations the company had illegally chopped down rainforests in Indonesia and planted palm crops on peatland.
But the body announced in August that IOI had satisfied conditions for the suspension to be lifted, a move that has sparked sharp criticism from environmental groups.