Greek Shipping Magnate Pericles Panagopoulos Dies at 83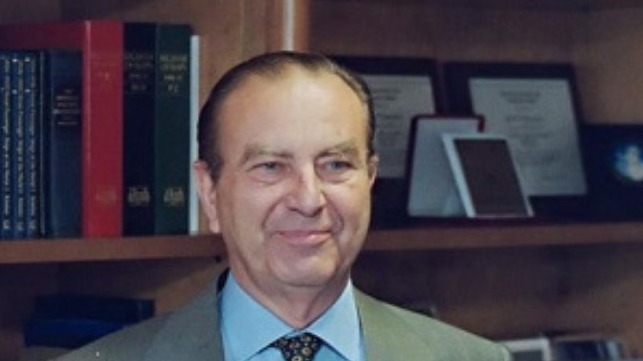 The Greek shipping magnate Pericles Panagopoulos died at the age of 83 on February 5.
Panagopoulos graduated from the Ecole Superiense de Commerce School in Switzerland and started his shipping career with cruise ship company Home Lines. Later he became general director of Sun Line.
He also studied studied Shipping and Shipping Law at the City of London College. Besides Greek, his native language, he spoke English, French and Italian.
Panagopoulos formed Royal Cruise Line in 1972 with Barney A. Ebsworth. The Golden Odyssey was the company's first cruise ship. She was built by Helsingor Shipyard and delivered in 1974. She carried 450 passengers (the same capacity as a 747 Jumbo Jet airplane). Further vessels included the 850-passenger Royal Odyssey in 1982 and the 1,000-passenger Crown Odyssey in 1988. In 1989, he sold the line to Kloster Cruises for a reported $300 million.
Panagopulos continued his shipping career with Magna Marine, a ship management company for dry bulk ships which he founded in 1990.
In 1993, Panagopoulos established Superfast Ferries with his son Alexander Panagopoulos. Superfast Ferries operated new, luxury passenger-car ferries between Greece and Italy and then expanded its services between Germany and Finland and between Scotland and Belgium - a first for a Greek company in northern Europe. Superfast Ferries was a part of Attica Group that Panagopoulos sold to Marfin Investment Group in 2007. Attica Group also expanded into coastal island shipping by creating Blue Star Ferries.
In 2009, Panagopoulos was kidnapped by armed men in Athens, and his wife paid approximately $39 million to secure his release. The kidnapping was orchestrated from prison by Greek crime boss Panagiotis Vlastos who later made a failed attempt to escape prison with a helicopter armed with improvised explosive devices and AK-47s.
Panagopoulos was president of the Greek Shipowners Association for Passenger Ships from 2003 to 2008 and since 2009 was its honorary president. "Pericles Panagopoulos was a leading personality in Greek shipping… He played an important role in developing cruise around the world and was a pioneer in the creation of new conditions for the operation of passenger / ferry lines by designing and building modern high speed ships, which he launched not only in Greece but also in other international lines throughout Europe," the Association said in a statement.
Panagopoulos' wife Katerina Panagopoulou announced his death via a Facebook post: "He completed his worldly course, in peace, at home, with his wife, children and grandchildren at his side, as he wished."