Grand Bahama Drydocks 30 Ships in First Half of 2017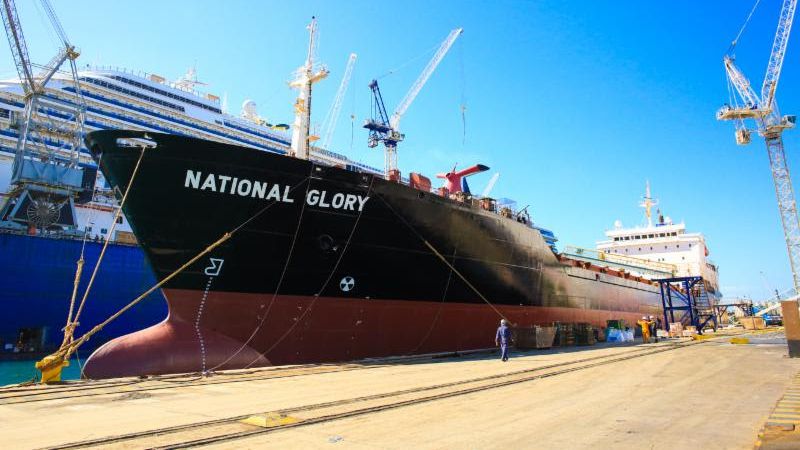 Grand Bahama Shipyard (GBS), the largest shipyard in the Caribbean, completed work on 30 commercial vessels in the first half of the year, including tankers, bulk carriers, container ships, tugs, dive support vessels and drilling support vessels. The firm says that 2017 has been a great year for repeat customers like Crowley, OSG, Seabulk, Seaboard, Tropical, Trailerbridge and Tote.
"We are dedicated to continual upgrades to our yard, and our services," said GBSL VP Sales and Marketing Graham Couser. "Last year significant investments included facility upgrades and purchasing of new machinery and tooling adding to our workshops' capabilities. We further expanded our facility with capital improvements to the North Beach Wharf. This year we are extending our South Beach and East Beach areas, plus developing a slops recovery system to support the demand of our tanker market."
The yard completed a long list of contracts in the first half, including these highlights:

- Bibby Offshore docked the diving support vessel Bibby Sapphire for an extensive 20-day work period on Dry Dock No. 1 in January.
- ARC vehicle carrier Resolve received a main engine overhaul along with complete hull treatment.
- MSC returned to the yard with their container ship Belle for minor repairs, and the success of this project resulted in the award of the container ship Michaela, which visited the yard for a week-long dry dock period in June.

- GBS provided machine shop and mechanics assistance to Schottel engineers for thruster installation to the Maritime Management Miami tanker Atlantic Sun in April.
- Harren and Partners' Paradero received a major tailshaft and CPP hab overhaul.
- The Allseas heavy pipelay vessel Solitaire visited GBS in June. The yard was able to accommodate the removal of her "stinger" to enable docking. The pipelay equipment was the major project, and included hinge and bearing housing overhauls and repairs.
- The Chinese-owned seismic vessel BGP Pioneer and companion tug Supply II double dry docked on Dock No. 1 in February.
Longtime customer Crowley Maritime will dry dock over a dozen vessels at GBH in 2017, including the container ship National Glory, which arrived in January.