Good Year Ahead, Despite NAFTA Discussions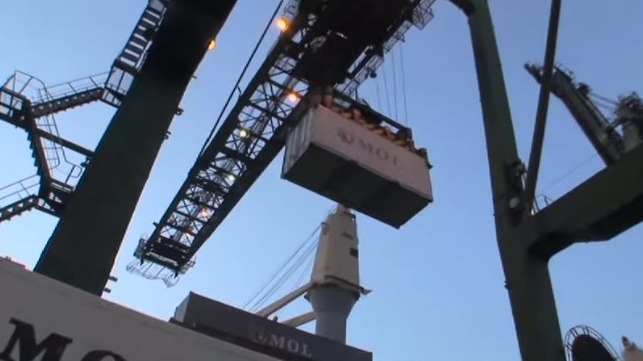 Industry analysts are expecting 2018 to be a good year for U.S. ports, despite concerns about the impact of North American Free Trade Agreement (NAFTA) uncertainty.
Imports at major retail container ports in the U.S. are expected to grow 4.9 percent during the first half of 2018 compared with the same period a year earlier, according to the monthly Global Port Tracker report released by the National Retail Federation (NRF) and Hackett Associates.
NRF Vice President for Supply Chain and Customs Policy Jonathan Gold said: "With the benefits of pro-growth tax reform coming on top of solid fundamentals like higher employment and improved confidence, we expect a good year ahead."
The NRF forecasts that 2018 retail sales will grow between 3.8 and 4.4 percent over 2017's $3.53 trillion. Ports covered by Global Port Tracker handled 1.72 million TEUs in December, the latest month for which after-the-fact numbers are available. With most holiday merchandise already in the country by then, the number was down 2.1 percent from November but up 8.4 percent year-over-year. The total for 2017 was 20.5 million TEU, topping 2016's record 19.1 million TEU by 7.6 percent.
January was estimated at 1.77 million TEU, up 4.1 percent year-over-year. February is forecast at 1.67 million TEU, up 14.8 percent from last year; March at 1.54 million TEU, down 1.1 percent; April at 1.71 million TEU, up 4.8 percent; May at 1.8 million TEU, up 2.8 percent, and June also at 1.8 million TEU, up 4.9 percent. Those numbers would bring the first half of 2018 to a total of 10.3 million TEU, an increase of 4.9 percent over the first half of 2017.
NAFTA Decision Looms
Fitch Ratings also predicts a solid year of growth for U.S. ports, but says the government's evolving stance on both domestic and international trade is a long-term development that could have a significant impact. U.S. President Donald Trump has said he will scrap NAFTA if his administration cannot negotiate trade terms with Mexico and Canada that are more favorable to the U.S. The next round of talks is scheduled for later this month.
"The U.S. is already withdrawing from the Trans-Pacific Partnership, and there is the possibility it may do the same with NAFTA, which is likely to lead to changes to import and export volumes along with the trade routes," said Director Emma Griffith.
American imports into Canada could fall by $3.3 billion under the new Trans-Pacific Partnership without the U.S., led by a decline in automotive products imports, Canada's federal government has concluded. The text of the 11-country (Canada, Australia, Brunei, Chile, Japan, Malaysia, Mexico, New Zealand, Peru, Singapore and Vietnam) trade deal was released on Tuesday. The government analysis also estimated that Canada's long-term economic gains would reach $4.2 billion, up from the $3.4 billion that was expected under the old Partnership that included the U.S. The gains are anticipated to be seen in a broad range of sectors, including pork, beef, wood products, machinery and transportation equipment.
Meanwhile, in the south, some Mexican businesses is already taking action. Mexican buyers imported 10 times more corn from Brazil last year amid concern that NAFTA negotiations could disrupt their U.S. supplies, reports Reuters, citing government data and top grains merchants. Mexico is expected to buy more Brazilian corn in 2018, which would hurt the U.S. agricultural sector which is already suffering from low prices.
Call for Change
The U.S. Industrial Truck Association (ITA) issued a statement this week saying it supports NAFTA's success in creating American jobs and contributing to the growth of the U.S. economy, but changes should be made to update the agreement.
The powered industrial truck (forklifts) industry annually exports over $900 million of equipment to Canada and Mexico duty free under NAFTA. This equates to an annual trade surplus of over $400 million. "NAFTA provides the opportunity for U.S. manufacturers to sell American made forklifts shipped to Canada and Mexico duty free. Without NAFTA these products would face substantial tariffs, putting them at a competitive disadvantage with manufacturers from other countries that enjoy duty free status," said Brian Feehan, president of the ITA. "The $900 million of products shipped to Canada and Mexico are built right here — in places like Texas, Ohio, North Carolina, Kentucky, Indiana and many more U.S. cities."
Forklift truck sales in the North America market continue their unprecedented increase. 2017 marked the third consecutive year of growth, with over a quarter million units sold in 2017, representing a 9.5 percent increase from 2016 and a 12.2 percent increase over 2015. The industry supports 209,000 U.S. jobs.
"The U.S. economy is growing, tax reform is providing confidence for businesses investments and unemployment is low. NAFTA remains an important component to maintaining this momentum," said Feehan.
NAFTA was founded 23 years ago, before major technological and energy innovations helped transform what and how the U.S. manufactures today, he says. While U.S. negotiators sought to level the playing field fully in the original NAFTA, barriers and weaker standards remain in both Canada and Mexico. ITA supports modernizing and improving NAFTA through the elimination of remaining market distortions and barriers in Canada and Mexico: raising standards to U.S. levels with respect to science-based regulatory practices, transparency, competition, the protection of private property and intellectual property; updating the agreement to include new digital trade provisions important to small manufacturers and those creating and relying on new technologies; and removing unnecessary red tape at the border and duplicative regulations that are holding manufacturers back.