Gibraltar Expands LNG Bunkering by Licensing Peninsula's New Vessel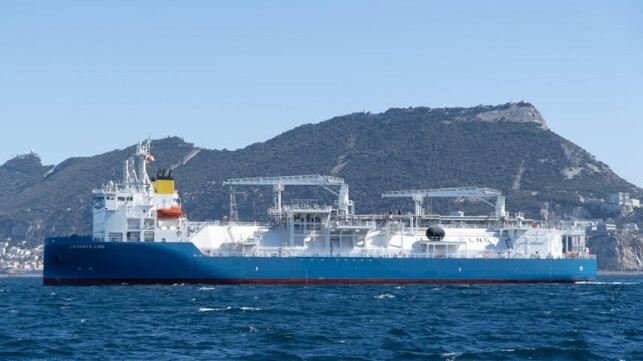 Gibraltar, already one of the busiest bunkering ports, is expanding the availability of LNG granting a license to the newly constructed, purpose-built LNG bunker vessel to be operated by Peninsula. The company confirmed today that it has been granted an LNG Bunkering Operator License by the Government of Gibraltar and the Gibraltar Port Authority and expects to commence operations shortly.
"The ability to operate our LNG vessel in the Strait of Gibraltar will bring lower-carbon solutions to vessels entering and leaving the Mediterranean. The proactivity of the Gibraltar Port Authority and the Government of Gibraltar will continue to cement the jurisdiction's position as a leading center for maritime excellence," said John Bassadone, CEO of Peninsula.
Peninsula's LNG bunker will be available for vessels in both the Gibraltar Strait and other Mediterranean ports. The company notes that as the gateway to the Mediterranean, the Port of Gibraltar will be an integral piece of the decarbonization puzzle by increasing the supply of LNG and later potentially other green fuels. Peninsula expands the availability of LNG at the port joining Shell which began LNG bunkering at Gibraltar in 2021.
"This license allows us to meet lower-carbon product demand across the Western Mediterranean. The LNG-propelled vessel orderbook is looking very healthy and we want to offer solutions now to those customers taking a proactive step towards decarbonization," said Nacho de Miguel, Head of Alternative Fuels & Sustainability for Peninsula.
The company entered into a partnership with Scale Gas, a unit of Spain's Enagas, and in 2021 ordered the construction of the purpose-built LNG bunker vessel. The 12,500 cbm LNG supply vessel, Levante LNG, was built by South Korea's Hyundai Mipo. The vessel is 436 feet long and 8,450 dwt. Launched in February 2023 and delivered in August she is operating under a seven-year charter to Peninsular. It will load LNG at Enagas's terminals in Spain.
The supply vessel arrived in Gibraltar in late September and has made its first calls at the terminals in Algeciras. LNG bunkering operations are expected to commence shortly now that the vessel has arrived and been granted the necessary licenses.