Germany Halts Nord Stream 2 Over Russian Invasion of Eastern Ukraine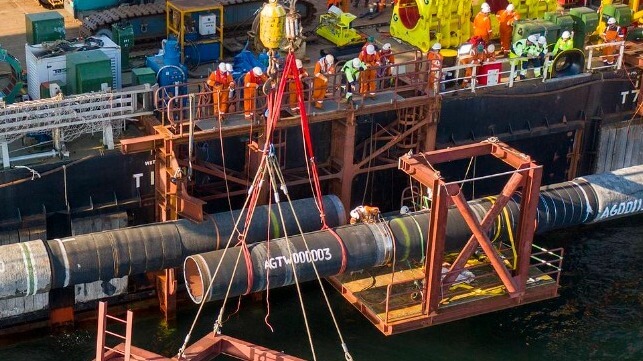 On Tuesday, after Russian President Vladimir Putin moved military assets into separatist-controlled areas of Eastern Ukraine, the German government announced that it would halt the operation of Russia's Nord Stream 2 gas pipeline to penalize Moscow for a "grave breach" of international law. The decision followed consultations with the Biden administration, which has recently threatened to stop Nord Stream 2 on its own.
If it had been activated, Nord Stream 2 would have added another two trillion cubic feet of natural gas export capacity per year for state-controlled Russian energy company Gazprom. The decision to halt Nord Stream 2 does not cut off Russian gas sales to Europe entirely: the original Nord Stream subsea pipeline remains in operation, along with the shoreside networks that carry gas from Gazprom to customers in northern Europe.
Western politicians and defense analysts have long warned that Nord Stream 2 would give Russia a free hand to threaten Ukraine without disrupting its gas-export business to Europe. By routeing gas volumes under the Baltic, away from the territory of its Eastern European neighbors, Moscow could continue to earn revenue on EU gas exports - even if it begins a new conflict on its southern border. The Kremlin would also have the freedom to cut off gas supplies to non-cooperative governments in Kiev or Warsaw without affecting downstream customers in Germany.
Nord Stream 2 was physically completed last year, despite U.S. sanctions. During the final months of construction, the Biden administration waived congressionally-mandated sanctions on the pipeline's developer in order maintain good relations with the government of Germany, which (at the time) strongly supported the pipeline's construction. At the time, the White House limited its sanctions enforcement efforts to small Russian firms and vessels, effectively allowing pipeline construction to proceed.
Russia's military buildup on the borders of Ukraine accelerated shortly after Nord Stream 2's completion, and the Russian Army now has a force of up to 190,000 troops - fully equipped with armor, artillery and air support - staged and ready for a range of contingencies. The U.S. government has evacuated all diplomatic staff from Ukraine, and the White House has publicly warned that Russia has plans for a full-scale invasion targeting Kyiv.
Though Moscow denies that it has any plans to invade, it has progressively strengthened its military forces along Ukraine's borders - even while claiming to draw them down. In the past, Russian leadership has expressed the view that Ukraine is not a legitimate nation, but rather an inherent part of the Russian state. In an extended speech Monday night, Putin doubled down on that theme.
"Ukraine is the result of the Bolsheviks' policy [of semi-autonomous regions] and can be rightfully called 'Vladimir Lenin's Ukraine.' He was its creator and architect," said Putin. "It should be noted that Ukraine actually never had stable traditions of real statehood. And, therefore, in 1991 [after the collapse of the Soviet Union] it opted for mindlessly emulating foreign models, which have no relation to history or Ukrainian realities."
New U.S. sanctions target shipping bank
On Tuesday, the White House also announced new sanctions targeting a select list of Russian banks and government officials. These include Petr Fradkov, chairman of Promsvyazbank; Aleksandr Bortnikov, head of the FSB security service; Sergey Kiriyenko, Putin's first deputy chief of staff; and his son, Vladimir Kiriyenko, CEO of leading Russian social media company VK Group.
Treasury also designated Vnesheconombank (VEB) and Promsvyazbank (PSB), along with 42 of their subsidiaries. VEB is key to Russia's ability to raise funds, according to the U.S. Treasury, and PSB is critical to Russia's defense sector.
VEB played a role in the development of the new Zvezda Shipyard in Russia's Far East, a strategic yard capable of building vessels up to 250,000 dwt. The bank also helped to underwrite the newbuilding program for Yamal LNG's icebreaking LNG carrier fleet, operated by Sovcomflot.
The Biden administration also sanctioned five ships: Baltic Leader, a multipurpose ro/ro cargo ship; Fesco Magadan and Fesco Moneron, two small container feeders; and the Linda and Pegas, two small tankers. All are Russian-flagged, and all are owned by Promsvyazbank.
"Today's actions, taken in coordination with our partners and allies, begin the process of dismantling the Kremlin's financial network and its ability to fund destabilizing activity in Ukraine and around the world," said Secretary of the Treasury Janet L. Yellen. "We continue to monitor Russia's actions and if it further invades Ukraine, the United States will swiftly impose expansive economic sanctions that will have a severe and lasting impact on Russia's economy."