GE and Fincantieri Team Up for Cruise Ship Scrubbers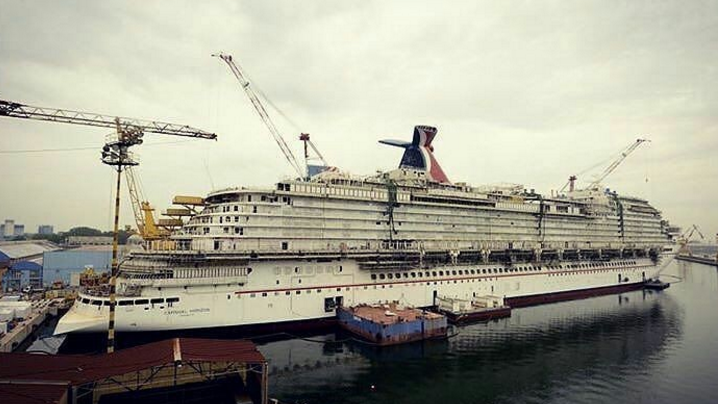 GE Power and Fincantieri are working on a new scrubber system designed to meet the needs of cruise ships. Fincantieri is the market leader in the cruise shipbuilding segment, and it will write the technical requirements for systems that will be competitive for use on these high-end vessels. GE Power will contribute its expertise in emissions control and define the features that are necessary to meet or exceed target performance levels.
"We are proud to announce this one-of-a-kind agreement. In fact, no shipbuilder before had ever established a partnership to reduce emissions with a system manufacturer, that is one of among the leaders in the area in which it operates," said Fincantieri CEO Giuseppe Bono. "This strategy, having cutting-edge research and innovation at the forefront, will allow us to furthermore raise the bar of technology to the benefit of the cruise market."
In 2020, new IMO limits on SOx emissions will go into effect worldwide, requiring the operators of HFO-fueled vessels to either switch to another fuel or install scrubbers to clean their exhaust. The latter is an increasingly popular option, especially in the cruise segment: market-leading operator Carnival Corporation already has 60 vessels with installed scrubber systems, helping its ships meet the requirements of the existing North American and European Emissions Control Areas (ECAs). Carnival's vice president of corporate marine technology, Mike Kaczmarek, says that the company has expanded its scrubber plans to cover more than 85 ships by the end of the decade – nearly the firm's entire fleet.
Scrubbers significantly cut back emissions of SOx and particulate matter, which are public health hazards in coastal areas. As a compliance option, scrubbers offer a good value proposition for the shipowner: the up-front cost of a scrubber system may be high, but the long-term cost of running a vessel on MGO may be higher. As a third option, a shipowner can choose to switch to LNG. Thanks in part to an investment by Carnival, roughly 15 percent of the new cruise ships on order today will run on liquified natural gas.