Russian oil and gas major Gazprom has signed a range of collaborative deals with leaders in Bolivia.
A delegation headed by Alexey Miller, Chairman of the Gazprom Management Committee, visited Bolivia where Miller met with President Evo Morales and Luis Alberto Sanchez, Bolivian Minister of Hydrocarbons and Energy.
Following the meetings a number of documents on energy cooperation were signed. The agreements cover collaboration in the exploration, production and transportation of hydrocarbons, construction and upgrading of oil and gas infrastructure as well as building of power generation capacities in Bolivia.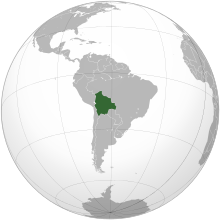 Pursuant to the agreement the parties may also consider possible joint participation in energy projects outside Russia and Bolivia.
Miller and Sanchez signed the Memorandum of Understanding to promote the use of liquefied natural gas. The Memorandum reflects the intent of the parties to implement projects aimed at using natural gas as a fuel in passenger, freight and river transportation in Bolivia, as well as for autonomous supply purposes.
A deal was also inked for updating the General Scheme for the Bolivian gas industry development until 2040. The General Scheme defines the development areas for the national fuel and energy sector in hydrocarbon exploration, production, processing, transportation and marketing.
"The energy industry of Bolivia is rapidly evolving," said Miller. "Today's documents offer new opportunities for Gazprom to expand its presence in this promising market. It will definitely move forward the Bolivian fuel and energy sector to a qualitatively new level and contribute to solving current economic issues in the country."
Bolivia's Energy Resources
Hydrocarbons, primarily natural gas, are an important element of Bolivia's economy and account for eight percent of the country's GDP. Bolivia's hydrocarbon exports accounted for 54 percent of total export revenue in 2014. The recent drop in oil prices caused Bolivia's energy export revenues to fall by nearly one percent to $6.57 billion in 2014.
Bolivia is a key supplier of natural gas to neighboring countries, Brazil and Argentina, via pipelines (392 Bcf annually to Brazil, and 191 Bcf annually to Argentina in 2014). Bolivia's natural gas exports have risen in tandem with the country's production over the past decade.
Bolivia is attempting to diversify its export markets by exploring the possibility of sending its natural gas into both Peru and Uruguay. By connecting with the Gasoducto Sur Peruano (Southern Peru Pipeline), currently under construction in Peru, and with the Uruguayan Port of Montevideo, landlocked Bolivia would be able to gain access to ports on both sides of South America and reach other export markets.
According to the Oil and Gas Journal, Bolivia had 210 million barrels of proved crude oil reserves as of January 2015, which ranks among the smallest reserves in the world. Proved reserves of crude oil have dropped significantly from 465 million barrels in 2011.
Bolivia's proved reserves of natural gas have also fallen from 26.5 Tcf in 2011 to the most recent EIA estimate of 9.9 Tcf at the beginning of 2015. The natural decline of many Bolivian oil and gas fields and decreased investments in exploration efforts has contributed to the reserve decline.
However, the government claims that only 10 percent of the country has been explored for hydrocarbon resources. This leaves the possibility of discovering additional hydrocarbon reserves if exploration is increased.
Gazprom's History in Bolivia
In 2007, Gazprom and state-owned petroleum company Yacimientos Petroliferos Fiscales Bolivianos (YPFB) signed a Memorandum of Understanding. Gazprom's interests in the Bolivian projects are represented by Gazprom EP International Services B.V., a specialized company for upstream projects outside Russia.
Gazprom in partnership with Total E&P Bolivie and TecPetrol de Bolivia participates in the projects pursuing the development of promising oil and gas Ipati and Akio blocks, where the Incahuasi field is located. Gazprom holds a 20 percent stake in these projects, Total E&P Bolivie – 60 percent, TecPetrol de Bolivia – 20 percent.
Gazprom, together with Total E&P Bolivie, also conducts a hydrocarbon exploration project in the Acero block. The project's shareholding structure at the stage of exploration is: Gazprom – 50 percent, Total E&P Bolivie – 50 percent.