Gaza Conflict Disrupts Offshore, Cruise and Port Operations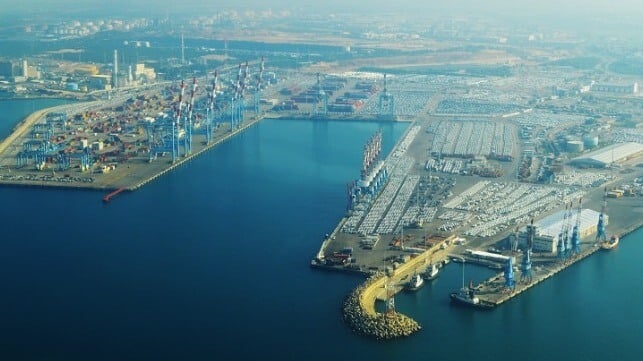 The full-scale conflict between Palestinian militant group Hamas and the state of Israel is beginning to disrupt commercial operations in the maritime sector, though the extent so far is limited to specific sectors and locations.
On Monday, Chevron announced that it has been asked to shut down production at the Tamar platform, located off the coast of Ashdod, a coastal city located on the north side of the boundary with Gaza. Israeli authorities are concerned that Tamar's operations could be at risk due to ongoing fighting. The platform is located just off the Gaza Strip, in sight of the beach and within rocket distance from shore. It produces gas via an extra-long-distance double pipe tieback to the Tamar field, located 80 nm to the north. The gas supplies are piped ashore near Ashdod.
Israel's energy ministry said in a statement that the shutdown would affect the gas supply for the nation's natural gas-fired powerplants. To make up the difference, the plants will switch to "alternative fuels." The ministry has declared an energy state of emergency, allowing preferential allocation of natural gas if there are shortages.
The massive Leviathan gas field off Haifa continues its operations uninterrupted.
Cruise lines are also canceling commercial voyages to Israel for the time being. So far, operators have pulled out of select scheduled October port calls for Norwegian Gem, Norwegian Jade, Oceania Nautica, Oceanica Sirena, Seven Seas Voyager, Rhapsody of the Seas, Odyssey of the Seas, and Celebrity Apex. Celestyal has canceled all Israeli port calls through the end of November as a precautionary measure, according to Travel Weekly.
Oceania Nautica was in port at Haifa when Hamas launched its cross-border attack Saturday. The port is far from the location of the fighting, and the ship departed without incident, the outlet reported.
The port of Ashdod is currently operating in "emergency mode," reports North Standard. The Israeli Navy maintains a substantial presence in the area and controls the approaches. Hazmat cargoes require case-by-case approval prior to entry, and some categories are not currently permitted (including all explosives and toxic gases).
Port of Ashkelon, the commercial seaport nearest the fighting, is currently shut down, the insurer said. Ashkelon is primarily used by tankers.