GAO: Sub Maintenance Delays Cost Navy $1.5B Over 10 Years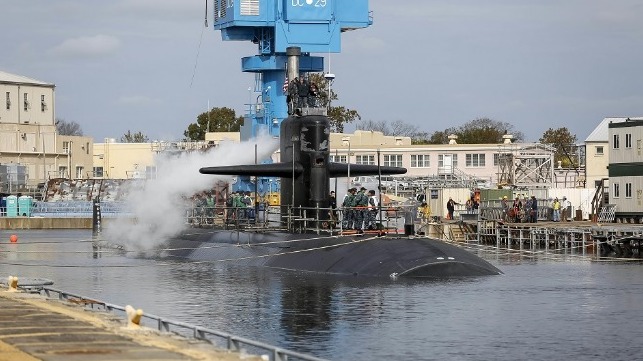 In a new report, the Government Accountability Office (GAO) calculates that the U.S. Navy has spent $1.5 billion over the past decade supporting submarines that it could not deploy.
A well-publicized maintenance backlog has cut into the availability of the Navy's attack subs, which are much in demand by combatant commanders. The problem is also costing the Navy a considerable amount of funding: At an average annualized cost of $150 million, idled or delayed units have taken up about 1.5 percent of the Navy's $9 billion attack submarine budget.
According to GAO, the Navy has been unable to begin or complete the vast majority of its attack submarine maintenance periods on time. GAO's analysis of Navy maintenance data shows that between fiscal year 2008 and 2018, attack submarines have incurred 10,000 days of idle time and maintenance delays as a result of delays in getting into and out of the shipyards.
As an example of the problem, GAO noted the long idle period for the USS Boise, which was due to enter shipyard for a maintenance availability in 2013. Due to the heavy workload at the Navy's yards, a slot was not immediately available, and Boise kept running for three additional years. In 2016, she was idled because she could no longer carry out her normal operations. She has been docked ever since while awaiting a shipyard slot. The same issue has affected over one dozen other subs that could not be serviced before the expiry date for their materiel certification.
GAO asserts that if the Navy allocated more maintenance work to private shipyards, it might be able to alleviate the problem. The public shipyards have been operating above their capacity for some time, and Huntington Ingalls and General Dynamics Electric Boat told GAO that they have space availabe. However, GAO says, the Navy has not carried out an analysis to determine how best to allocate its maintenance needs between private and public yards.
The issue is not expected to go away of its own accord. The Navy predicts that it will miss 50 planned sub maintenance periods over the next 23 years unless it expandes its shipyard capabilities. The service estimates that it needs an investment of $21 billion in its public yards over the next two decades in order to meet its needs.
"Without addressing this challenge, the Navy risks continued expenditure of operating and support funding to crew, maintain, and support attack submarines that provide no operational capability because they are delayed in getting into and out of maintenance," GAO warned.