Frenchman "Barrels" Across the Atlantic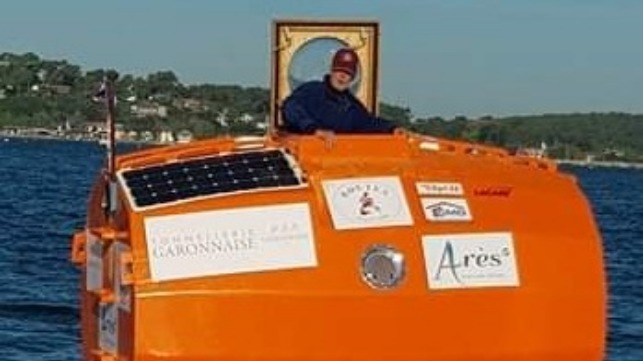 The 71-year-old French adventurer Jean-Jacques Savin is sailing across the Atlantic in a three-meter (10-foot) "barrel" that relies on wind and ocean currents for propulsion.
Savin set off from El Hierro in Spain's Canary Islands December 26 and is aiming to complete the 4,500-kilometer (2,800-mile) voyage to the Caribbean in about three months. His barrel has around six square meters (65 square feet) of living space and includes four portholes, including one facing downward under-water. Entry is via a 60 centimeter (24-inch) hatch on top, and the vessel has a weighted keel for balance.
His website provides a plan of the vessel and a list of equipment it carries. His safety equipment on board includes a personal distress beacon, a life raft, a floating anchor, a fire extinguisher, a life jacket and a bilge pump.
Solar power from two 100W panels will be used to provide power for satellite connectivity, and he is providing updates on Facebook.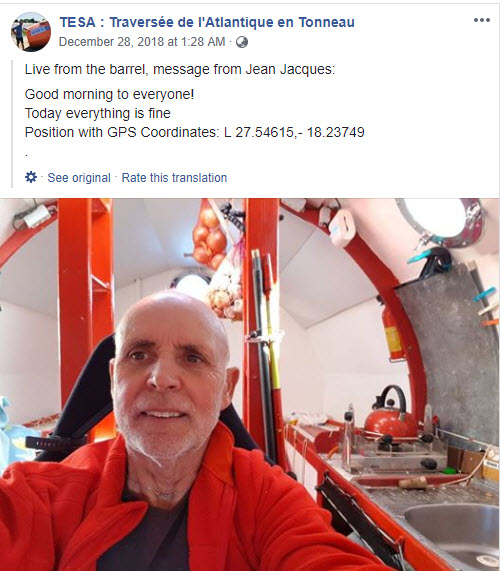 Savin, a former paratrooper, will drop markers from his resin-coated plywood barrel to further oceanographic research. He claims to have already crossed the Atlantic four times on a sailboat. This time, he described his voyage as a "crossing during which man isn't captain of his ship, but a passenger of the ocean."
He will turn 72 during the journey: "All my life is made of adventures, I was a gamekeeper against the poaching of elephants in Africa, then I did aerobatics, a world tour with a sailboat. I had to do something strong for my 72 years!"
He had the idea while reading a book by Alain Bombard titled Naufragé Volontaire, published in 1953. "It is he who evokes the barrel at the end of his story," says Savin. "He wanted to do it but never managed to materialize his project."
Bombard was a French biologist, physician and politician famous for sailing across the Atlantic Ocean in a small boat. He theorized that a human being could survive the trip without provisions and decided to test his theory in order to help save people lost at sea.
Bombard sailed in a Zodiac inflatable boat called l'Hérétique, which was 4.5 meters (15 feet) long, taking a sextant and almost no provisions. Bombard reports he survived by fishing (using fish as source of both fresh water and food) with a self-made harpoon and hooks and by harvesting the surface plankton with a small net. He lost 25 kilograms on the journey.
Bombard claims to have drunk a small amount of seawater during his voyage. His survival claims were later challenged by Hannes Lindemann, a German physician, canoeist and sailing pioneer. Lindemann wanted to repeat Bombard's trip in order to gain a better understanding of living on salt water and fish, but found that he needed fresh water (from rain) most days. Lindemann later claimed that Bombard had actually taken along fresh water and consumed it on the ocean, and that he had also been secretly provided further supplies during his voyage. Lindemann's own observations about reactions to scarce fresh water supplies became the basis for the World Health Organization's navigation recommendations.
Savin's provisions include a manually-powered water maker. His voyage is costing around $65,000, and funding has been provided by French barrel makers and crowdfunding.