Freighter Held After Colliding with Fishing Boat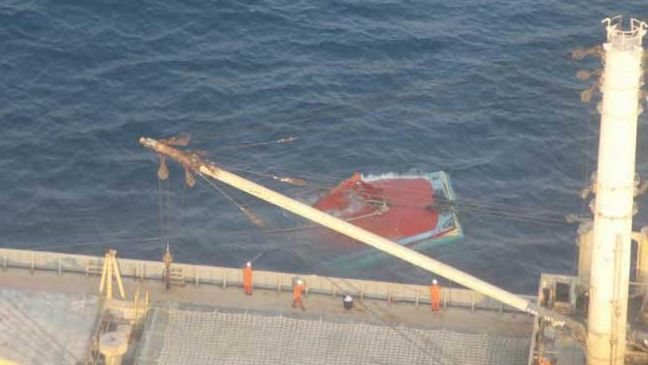 Authorities in Surabaya, East Java have detained the freighter Thaison 4 (or Tay Son 4) while they investigate its role in a collision with a fishing vessel.
In the early hours of Saturday morning, off East Java, the Thaison 4 struck the stern of the fishing boat Mulya Sejati, capsizing it immediately. Three fishermen were trapped within the boat and killed. Twelve men were rescued and twelve remain missing; search efforts continue. A survivor told the Jakarta Post that most of the crewmembers were asleep at the time of the collision. [Sources differ on whether the Sejati was a sailboat or a fishing vessel; all agree that there were fishermen on board.]
The Thaison 4 was under way for Surabaya at the time of the incident, loaded with a cargo of tapioca flour.
In addition to an investigation of the accident, Indonesian authorities are conducting a thorough port state control inspection of the freighter.
The 2005-built Thaison 4 is operated by state-owned Vietnam National Shipping Lines (Vinalines), and she trades regionally in Southeast Asia. Port state control inspectors have found a handful of deficiencies on board over the years, according to Equasis, but she has no record of prior detentions.
Vinalines has sent a delegation of company officials to be on hand for the investigation, and the company has asked Vietnam's Ministry of Foreign Affairs and the Vietnam Maritime Administration for help with any legal actions, reports Vietnam's Tuoitre News.
Marine casualties with loss of life are sadly all too common in Indonesia, where low-cost ferries and small craft are popular forms of transportation. Earlier this month, 21 were killed and 34 went missing when a boat carrying migrant workers capsized off Batam. The vessel was likely overloaded, and it flipped in heavy weather.