Freeport LNG Cleared for Commercial Ops Nine Months After Explosion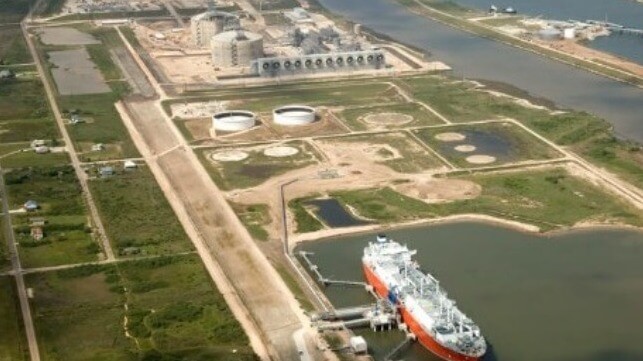 Freeport LNG received regulatory approval to resume commercial operations at its liquefaction and export facility in Texas as the company continues to ramp up operations at the U.S.'s second-largest LNG operation. The approval came 10 days after the first cargo was loaded at the facility and while they continue to make progress, Freeport LNG said it does not expect to be in full service until May, a full 12 months after an explosion took the facility offline.
The Federal Energy Regulatory Commission (FERC) granted permission for the immediate return to service of the first LNG train. Freeport LNG had previously received permission at the beginning of the month to begin the cooling operation at the facility to prepare for the resumption of gas operations and on February 11 they were permitted to load gas to a tanker from one of the storage tanks. In addition to the first train which had already restarted, FERC also gave permission for the incremental restart and return to full service for the second liquefaction train. Two of the company's three storage tanks will also be in service along with one of its two piers.
The restart and return to service of Freeport LNG's third liquefaction train will require subsequent regulatory approval once certain operational conditions are met. The company said it is working on a plan for the full resumption of operations over the next several weeks.
"Returning to liquefaction operations is a significant achievement for Freeport LNG," said Michael Smith, Freeport LNG Founder, Chairman and CEO. "Over the past eight months, we have implemented enhancements to our processes, procedures, and training to ensure safe and reliable operations, and significantly increased staffing levels with extensive LNG and petrochemical operating experience to reduce overtime, enhance operational excellence, and improve quality assurance and business performance."
Freeport estimated that its third LNG storage tank and second pier would return to service in May getting the facility back to full operations. The three-train facility has a production capacity of approximately 2.0 billion cubic feet per day. The company had previously received construction approval from FERC to proceed with the addition of a fourth train although no timeline has been announced for when they might proceed with that addition.
News of the restart of commercial operations hit an already weak LNG market that has seen a significant price drop due to overall mild temperatures this winter season. Analysts also point to Europe's successful management of its gas supply while increasing imports from the U.S. and the Middle East to replace Russian gas. Conservation efforts and the soft economy which slowed industrial gas use have also contributed to a decline in demand.
Reuters reported on Tuesday that the price of natural gas was off a further nine percent nearing a 29-month low. Weak prices and a continued outlook for continued softer demand through the end of this year's second led investors to move to cover their short positions and slowed speculation in the price of natural gas. The price recovered slightly, approximately two percent, on Wednesday but remains comparable to September 2020 levels down as much as 80 percent from the peak speculation in the summer of 2022 driven by fears of a shortage in Europe due to the sanctions on Russian imports.